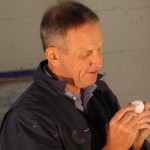 Robin Coupland – Occasional painter. Golfer. Fascinated by humanity. Passionate about the narrative behind beautiful stuff (and other stuff as well.)
Isaac Griberg – Curious photographer, blogger and aspiring teacher. Likes sci-fi, retrogaming, 80s music, coffee, crows and crispy bacon.
Garth Coupland – Cartoonist and rock musician. Passionate about wildlife and representations of it.