Have you ever been to Milan, Paris or another European metropolis? Chances are you have snapped photos of landmarks like the Duomo di Milano and La Tour Eiffel. Italian-born photographer Gabriele Croppi for sure has. But, unlike most photographers shooting left and right, this gentleman has added touch and perspective to some of our most recognized and photographed beautiful stuff. With contrasty and monochromatic photos, reminding me of a film noir, his work is spectacular and suggestive. Voilà: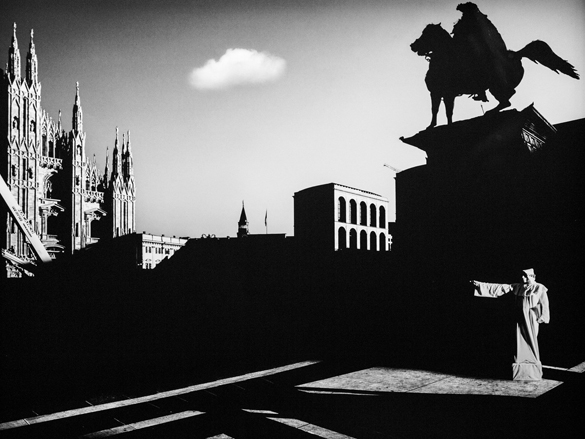 During a recent visit to Oslo, I stumbled upon Croppi's work at the excellent Nobel Peace Center, located at the heart of the Norwegian capital. Featuring eight photographs like the one above, "Metaphysics of an Urban Landscape" is part of European Identities, a temporary photo exhibit on display until 15 September 2013. If you happen to be up north, this is a must see. For those of you who cannot be there, take a look at this video:
In the dramatic setting of architectural beauty, bathing in shadow and darkness, Croppi illuminates one subject with a few strokes of light. By masking the bustling, vibrant and chaotic urban landscape in black, he unveils the faces of European metropolis. The people. The heterogeneity. Croppi helps us to see the trees for the forest. I think this is an important and beautiful message worth spreading. If you are reading this, Gabriele, can you please tell us more about these photos and what they mean to you? Thank you!