I visit the Olympic Museum to check out "Rio 2016 through the lenses of four photographers" even though sports photography has never been my thing. I consider myself a decent photographer but before I even see the first photo, the exhibition challenges me. "Everyone's a photographer" it states in the introduction and then, rather like Orwell's pigs, goes on to say "some more than others!" I discover that this is true and am humbled by what I find.
Four professional photographers – obviously from the group "some more than others" – were invited to exhibit their favourite shots from the 2016 Rio Olympic Games.
Mine Kasapoglu Puhrer (TUR), John Huet (USA), David Burnett (USA) and Jason Evans (USA) have done much more than capture great moments in sport. They provide an archive of the passion, emotion, and even unintentional comedy that is the human face and real draw of the Games. In addition, each great image is garnished with a little unexpected detail.
Great sports photographers have an eye for the image and for the moment. I mean, just take a look at the cover photo of David Burnett's book (above). And the photographers admit that they are constantly exploring new angles, new compositions, new techniques and new narratives even though they've been in the business for many years.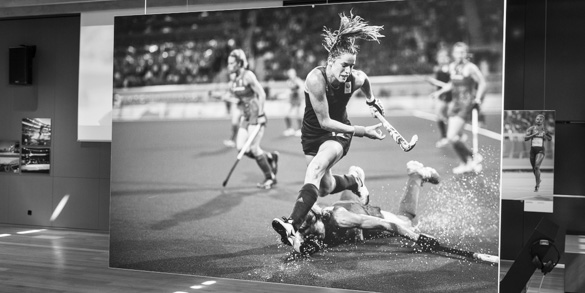 What a contrast between these two images: women's hockey and women's golf!
The video interviews of the four photographers fascinate me:
"Sometimes winners have this different face before they win, it's really exciting. I like to play with that photographing the moment before the race, the start." – Mine Kasapoglu Puhrer
"You have the best photographers in the world coming together and creating their own photo Olympics. It's like the athletes, every photographer is trying to be the best, they want to beat the people next to them, they want to beat everybody in the room. – David Burnett"
"You still need an emotion, you still need a story, you still need to find what that is, even though the technology helps, it's just a tool. You have to use it wisely and properly. – Jason Evans"
"If you see the photograph through your camera lens, you don't have, it's when you don't see it is when you have it." – John Huet
The photographers also make reference to the implications of technology for their work. Twenty years ago, sports photographers shot on film. From clicking on a top shot through development to sale for publication took about 40 minutes. Now, a captured image can appear on a news website anywhere in the world in under one minute.
The exhibition lasts until 9 November. It's a must-see for everyone (who's a photographer!)