I drive the desolate north coast of Scotland. The first hint that the single-track road around Loch Eriboll is taking me to an intriguing destination is the sight of Lotte Glob's house.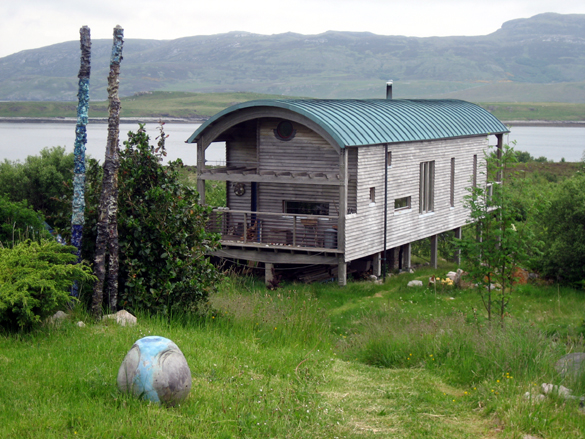 I park and, buffeted by the wind, walk through a pair of fantasy wrought-iron gates adorned with blue ceramics. I then realise that the impressive structure viewed from the road is only Lotte's personal sanctuary in a wild ceramic wonderworld that comprises her studio and the fourteen acres of hillside dedicated to her mesmerising beautiful stuff.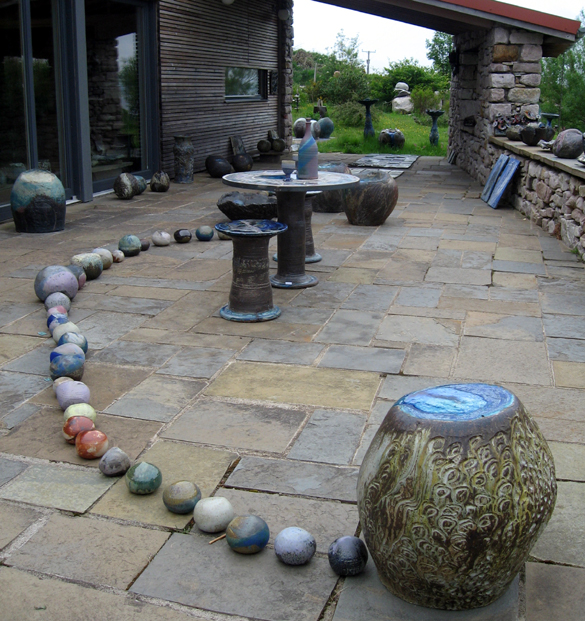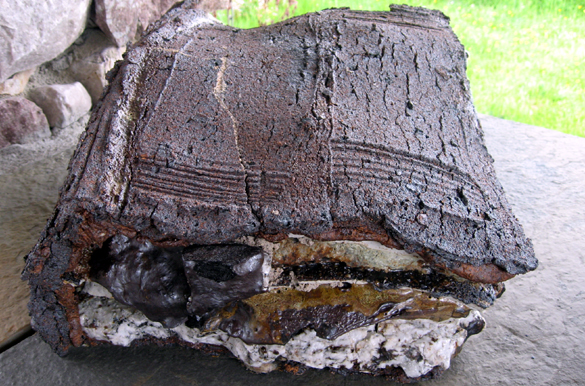 Lotte Glob is an internationally acclaimed ceramacist. She does not care whether she is perceived as living at the end of the world. Her world is about the beginning of things. It is a tribute to the molten source of the granites, gneisses and schists upon which she has chosen to live and work. Earth, rocks and fire are, unsurprisingly, her media and her inspiration. Using temperatures of over 1300 degrees C she fuses clay and rock. I run my hand over one of her famous rock books. The Big Book? Genesis? I expect to feel heat from the pages.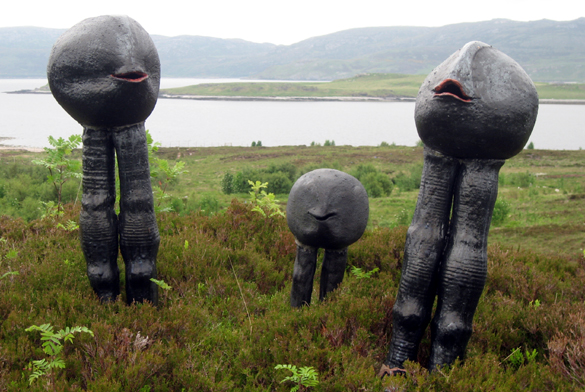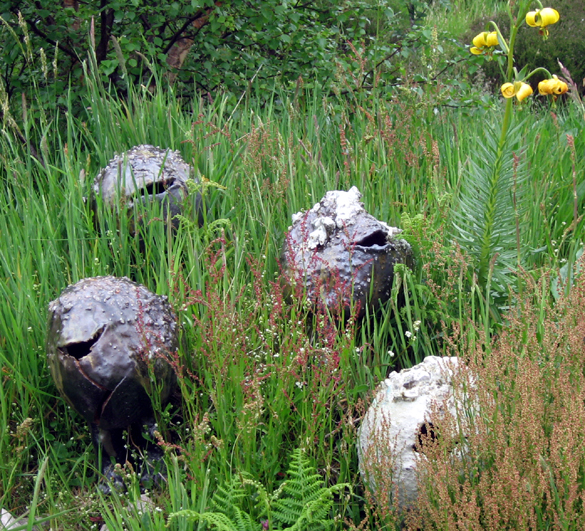 Lotte manages to couple a beginning-of-the-world feel with a wild imagination. In her wonderworld, there are ceramic surprises everywhere. I find pouting bipeds on a hilltop. Hidden in the undergrowth are goblin-like wee beasties a-singing. (Their song amuses them greatly!) Lapiz blues and vibrant torquoises startle at every turn.
Her creative process also involves leaving something to this geologically ancient environment. Behind her stylish studio is a small pond in which ceramic spheroids bob against each other with a gratifying chinking noise. These belong to Lotte's "floating rocks" project. She has left 333 such "rocks" in 111 small remote lochans in the area. She doesn't know what happens to them. It is her way of giving back to this rugged, rocky place.

Writing for Talking Beautiful Stuff gives me the privilege of meeting extraordinary creative people. As always, the "Who?" behind this beautiful stuff is fascinating? Lotte Glob is Danish. She has spent a large part of her adult life in Scotland single-mindedly pursuing her passion. Her handshake tells a story of the outdoors and a hard manual dexterity. "From the age of eight, I was always in the forests collecting things likes animal skulls, twigs, stones and feathers and arranging them into neat little piles" she tells me. "Pottery was the only thing I was good at in school! Now, when I work, I forget I exist." She admits to other inspirations: Bach, The Little Prince and walking.
Whilst accolades for her ceramics bring a passing flicker of satisfaction, her steely blue eyes beam the calm of someone whose work and existence are in total harmony. She can afford to be and is generous with her time, with her space and with her thoughts.
In case you are wondering, Lotte also makes plates. They too are beautiful.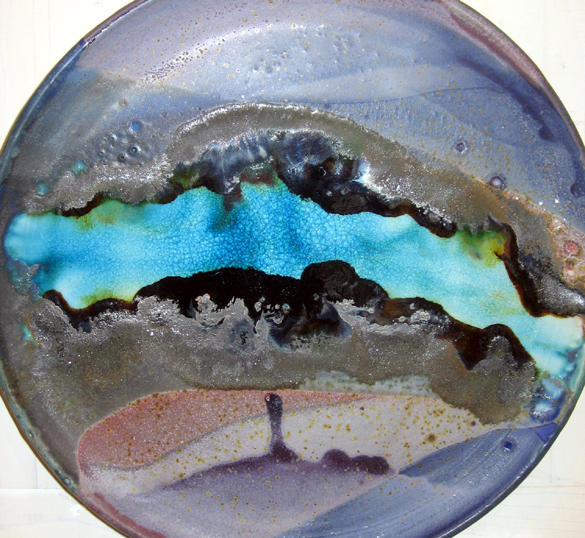 O frabjous day!