Cars are not really my thing. In nearly twenty years of living in Switzerland, I have never been to the Geneva International Motor Show. Well….. it's my first week of retirement and, by chance, I receive a complimentary ticket. Feeling not terribly automotive, I hop on a crowded number 5 bus to Palexpo.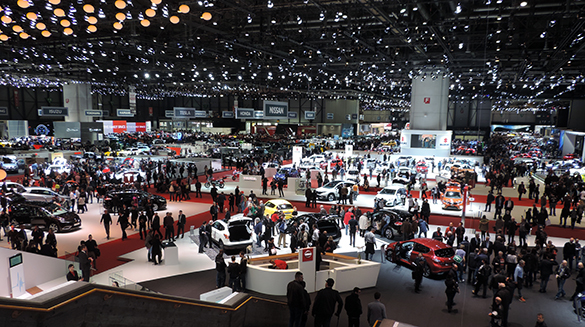 First observation: I never knew this show happens on such an enormous scale. Thousands upon thousands of car enthusiasts gather around hundreds and hundreds of next year's models. Second observation: this is fun! As far as the eye can see, there is sumptuous, extravagant, shiney and very beautiful stuff. Third observation: when it comes to design and function, nothing can match the automobile industry. These lustrous vehicles generate fantasy; they ooze influence, chic life-styles, seduction, virility and power. I love it! I move with the crowd. I listen to the comments. I follow their interest. I join the buzz as much as I can. And I find lots and lots of beautiful stuff to photograph and to talk about here.
Just look at the sleek lines of the new Nissan S Way. What really catches my eye is the addition of warm tones with the bronze highlights. Without them, the whole would appear cold. Who does this appeal to? A sporty-chic young lady? A young man in the pre-ferrari stage of his petro-development?
This is the interior of the GEA G Giugiaro. Anonymity, masculinity and comfort. If you want to go for something at the top-end of the chauffeur-driven range, here it is. Well, that's what I think until I come across…..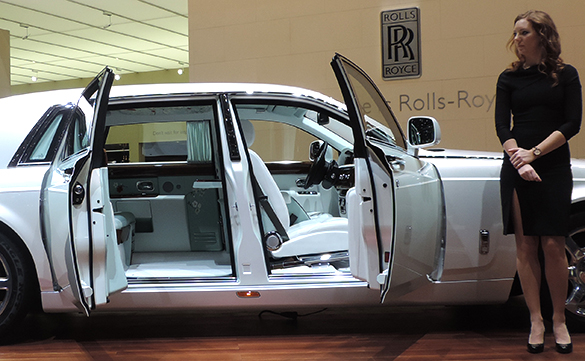 …. the RR stand. O… M… G…!! Would you really take this to the shops? Or to the beach? I adore those little peek-a-boo curtains!
Fourth observation: a recurrent feature of the show is that the most exclusive cars are surrounded by modest little glass barriers. I think they are to prevent people like me from getting too close. But I did sneak up to snap the superb front wing of the new Quantino. Another recurrent feature is how people patiently queue to pass through those little barriers for the privilege of sitting in the sort of vehicle that I've only ever associated with James Bond or the Pink Panther. I couldn't help noticing that most are men. Most are beyond their first week of retirement. Many need a little bit of help from the amiable hosts and hostesses to get in and out of their would-be purchases.
Talking of men, cars, hosts and especially hostesses, I fully expected to find the displays draped about with slinkily-clad super models. That seems to be a thing of the past except of course for Pirelli. The calender-happy Italians simply laugh in the face of political correctness. But then what is politically correct may not be biologically correct. Images of beautiful women sell things. Even tyres!

I come across the Bentley stand. It is difficult to get close to the little barrier such is the excitement . "Magnifique!" the admirers gasp.
What has drawn the crowd, revolving slowly on her display, is the most elegant car of the whole show. She purrs British Racing Green.  She soaks up the attention.
This is the new Bentley…. but I find no sign indicating model or series. I ask a helpful young man sporting a Bentley lapel pin for specifications. "That, Sir, is a Speed 6. It's a car in its design stage. It may not be out for another five or six years. It's just a concept for the moment." I'm stunned. The most beautiful car here today is not yet a car! "You mean it's kind of work in progress?" I ask him. "You could say that, Sir. Yes." This is so cool! I ask if I could sit inside it for a moment. He smiles politely, "I regret, Sir, that is not possible."