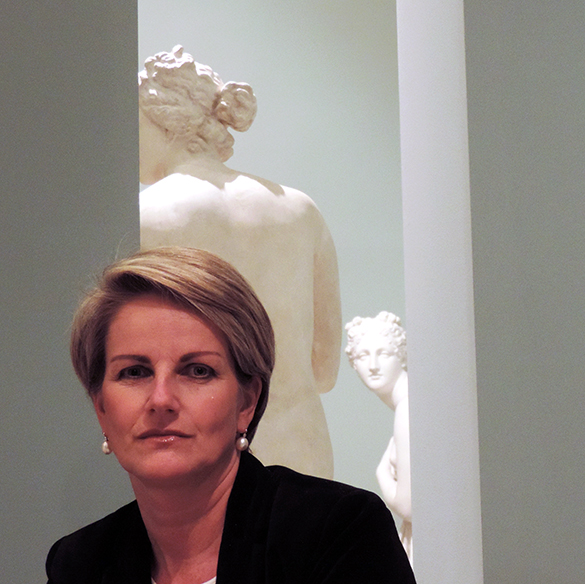 I meet Philippa Kundig at Geneva's Museum of Art and History. She is the designer of the current exhibition featuring one of this town's most famous painters: the eighteenth-century neo-classicist, Jean-Pierre Saint-Ours (1752-1809.) And what a monumental, beautiful exhibition it is! If you like to feast on representation of the classics, the team at MAH serves up Saint-Ours's full menu of Homer, Olympic games (the original!), Spartans, Cupid and Psyche along with dozens of his meticulous portraits.
Such an important exhibition occupies Philippa and the two curators, Anne de Herdt and Lurence Madeline for more than six months. The works have to be sourced, borrowed and transported. Historical research, deciding on sub-themes, writing the panels and brochures, designing the display, building partitions, printing the materials, lighting the space and finally hanging the pictures are all requisite steps towards what confronts me today.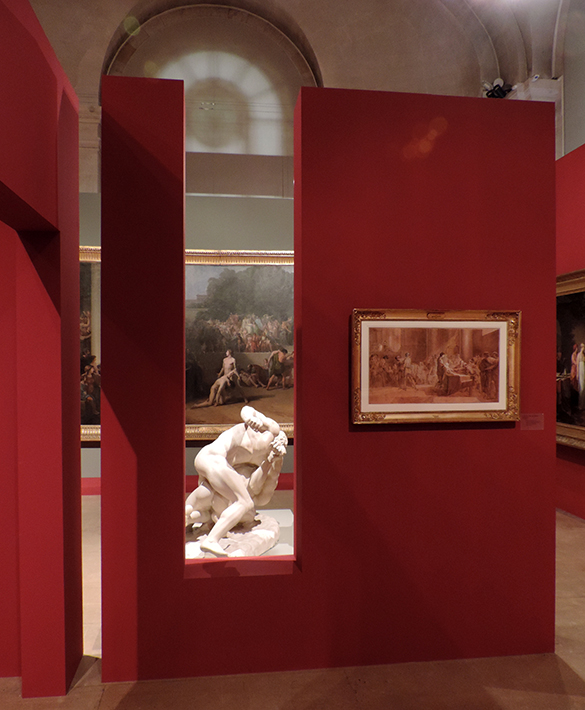 The resulting presentation of the works is stunning. Here, by incorporating a vertical break in one of the rich, plum-coloured partitions, Philippa draws the visitor's eye into the next space, across a rare Saint-Ours sculpture of two naked men wrestling and then on to an Olympian scene where a victorious wrestler is supporting his vanquished foe before the tribune.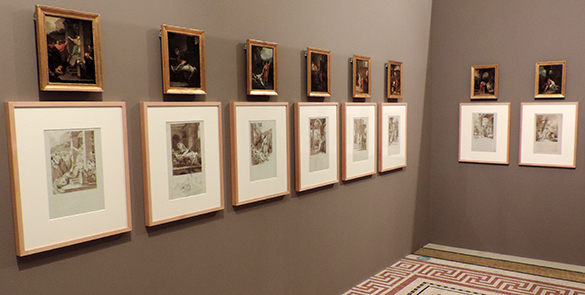 The life and work of Saint-Ours is squarely placed in the Enlightenment. He was profoundly influenced by Geneva's foremost philosopher of the day, Jean Jacques Rousseau. The painter's father is said to have possessed a collection of Rousseau's publications. In one side-room, Philippa shows me a unique, academic and complete body of work. It comprises small oil paintings of scenes from Rousseau's "The Levite of Ephraim" paired with corresponding ink sketches. Each pair merits minute examination. Tempus fugit!
The signature painting of the exhibition is a large-scale version of "The Earthquake." (Saint-Ours painted four smaller versions.) The motivation for this imposing work came with news of a massive earthquake in Messina, Italy in 1783. A family flees the destruction of their home. They look to the heavens as if expecting to find a reason for this punishment. The woman with her terribly vulnerable – possibly dead – baby are centre-stage. Powerful stuff!
Indeed, these were turbulent times. France was in political upheaval and Geneva had its own revolution in 1792. Saint-Ours maintained a fascination for people caught up in cataclysmic and violent events as evidenced by his sketch-book from around that time. My mind automatically makes a link to the paintings of Tahar M'Guedmini depicting the moment when catastrophe hits…… "when time faints."
Needless to say, some of Saint-Ours's exquisite sketches on this theme are positioned near the final work. This part of the exhibition seems so compelling. Is this because it resonates with current events? I guess that if Saint-Ours was painting today, this is how he would portray heart-rending scenes from the current migrant crisis in Europe. Were subliminal influences from daily news playing on the minds of the curators when conceiving this show and deciding on the signature work?
Saint-Ours trained at the Royal Academy of Painting and Sculpture in Paris. For all the splendour of this exhibition, let's not lose sight of the fact that he was a true master of his chosen medium. I find myself riveted by the sobre concentration on these men's faces. And this painting was just a study for a bigger, harrowing canvas of the Spartan elders choosing which children would live to be good citizens and which would be left to die.
So…. Bravo MAH! And…. Brava, Philippa!  Many thanks for the private tour of your work-place. I take my leave and enjoy a breath of fresh air. Right in front of MAH, welcoming me back to the crisp October daylight, is my favourite public sculpture in Geneva – Henry Moore's "Reclining Figure: Arch Leg." I run my hand over the super-smooth bronze and can't help wondering how a MAH exhibition designer would display Moore's work in 200 years.