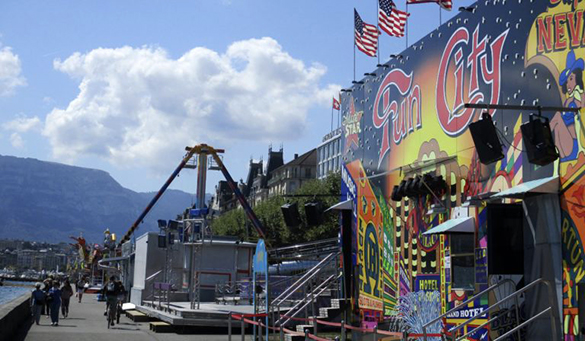 It's that time of year! The Fête de Genève. The main event of the annual civic calendar. The Cartoons for Peace exhibit is removed from the lakefront. Articulated lorries swing into the centre of town loaded with the unlikely metal constructions of a hundred shows and rides. Shouting in a dozen languages, muscled and tattooed young men bolt and hammer the whole scene into place.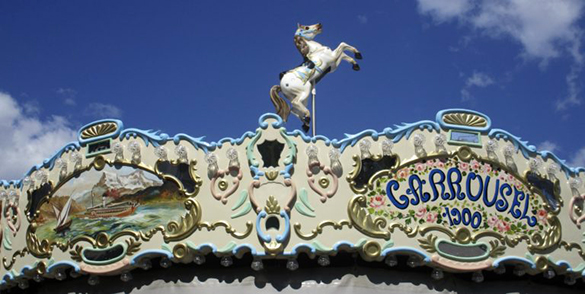 It is a couple of days before the Lake Festival begins. It is mid-morning but there are already thousands of tourists ambling about. Selfie city. Rock music blasts out. Hotel California. Johnny Be Good. Spicy smoke from Asian food in preparation stings my eyes. I notice a small 116 year-old carrousel. In this setting it is rather understated and dignified. The decoration has a by-gone charm. There is even a hand-painted and quite passable landscape of a Swiss lake with famous centuries-old boats. So cute!
I decide to look more closely at the artwork on some other attractions. Maybe not so cute but fascinating nevertheless. The circus theme is predictable.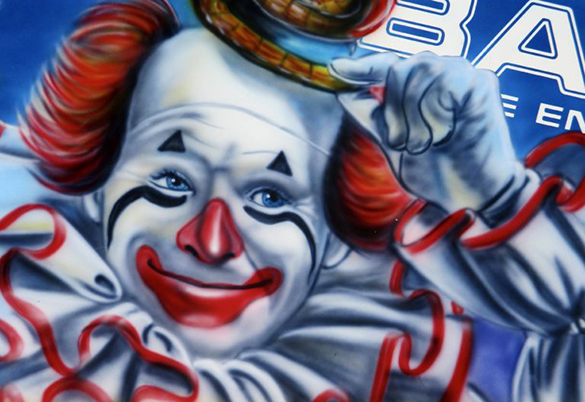 Most are decorated by spray paint. There is beautiful stuff to be found here. I can't help wondering who these master aerosol-painters are. Is this the day-job for hooded graffiti taggers?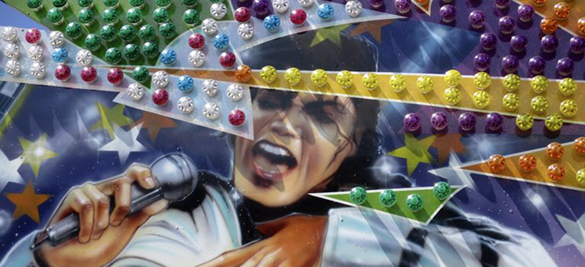 A panel with a hundred bulbs is bolted into place. Jacko! Then I spot Elvis!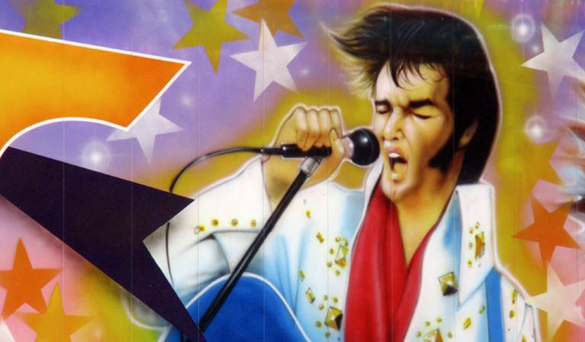 In a moment of giddying perception, I realise that, in fact, the main visual theme of the whole show is Pop Americana!
Why American objects such as big American trucks or American football helmets should excite us to the point that we dig into our pockets and spend hard-earned money on being turned upside down at high speed and nauseated is difficult to comprehend. But it's all part of the atmosphere… I guess!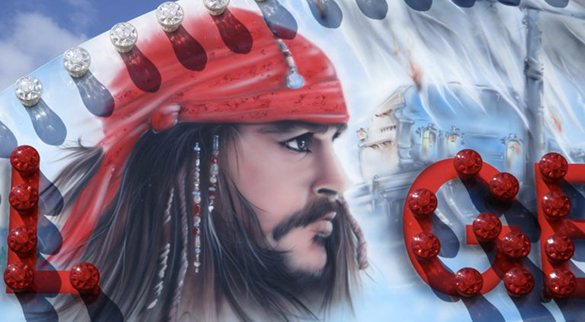 Above all, the dominant theme of these technically brilliant works is Disney. The origins maybe American but the appeal is global and the images universally associated with good times, fun and laughter. This must be America's biggest cultural export ever.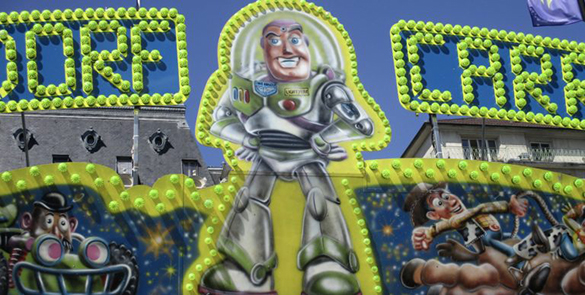 I couldn't resist snapping Space Ranger Buzz Lightyear, my favourite Disney character. He's just so duty-bound and lovable but poignantly dim. He invites us into some cosmic whirligig. Subliminal message: even if you are scared out of your wits, good old Buzz will look after you!

Right next to Fun City Vegas Super Nevada Paradise is Ali Baba. I am not sure what Ali is offering as the construction is, inshallah, ongoing. Somehow, given the current state of Americana, I just don't think a fairground stall with a middle-eastern theme including camels and bedouin tents (but Disney-style treasure chests!) will have a great success. I'll go back soon and bring you an update.
If you go down to the lakefront in the next days, you really don't need to take a ride. Just take in some of the decoration! Send us a photo or two!