Vienna! A city worth visiting. The streets are neat and clean. The people are pleasant and polite. The restaurants are wonderful. Everything works. The many well-organised museums celebrate a history steeped in the arts and science. Whole institutions are dedicated to Mozart and Freud. And, of course Vienna has Gustav Klimt (1862-1918) who is to painting what Wolfgang Amadeus is to music and what Sigmund is to Psyche; I conclude after my weekend here that Klimt has to be the greatest ever painter. Ever. But then that's just the problem. Everywhere I look I see Klimt. The restaurant where I have lunch is decorated with tastefully lit Klimt prints. My hotel room has Klimt wall paper. Klimt posters are all over the U-Bahn metro. People flock here to see Klimt and to buy Klimt by the birthday card, teddy bear and t-shirt.
The Belvedere Museum has the single largest collection of Klimt's paintings. I get there early and breakfast in the sumptuous café on coffee and apfulstrudel. In a state of delicious anticipation, I make my way to the Klimt rooms. The first has a number of his square landscapes. They are the most satisfying of paintings. They soothe the soul. They draw me into some delicate rural mystery. The technical mastery of the medium is astonishing. I feel a kind of stupefied admiration. I sit quietly with a privileged view of five of these canvasses.
I notice that the place is filling rapidly and tour guides are leading eager parties directly to the next room. I follow on their heels. I look around. I feel a sharp intake of breath, a quickening of the pulse and a tightening of the innards.
On my left is "Judith" in all her shining vampish glory. She is so well-known but this is the first time I see her for real. She simply dazzles. No surprise given the amount of gold flake Klimt incorporated used in this period. The apples on the tree behind her right shoulder tempt. The scaly snake skin warns of evil. I love the way her right hand has clamped onto the scalp of some poor schmuck who has given way to temptation. The painting epitomises Klimt's golden period during which he combined themes of the naked female body, eroticism and mysticism with a range of pictorial influences including impressionism, Japanese screen-prints and ancient Egyptian symbols.
I turn to my right. I glimpse the broad and staggeringly beautiful masterpiece of the period, "Kiss;" the best known of all Klimt's paintings and the main act of the great Viennese show-and-tell. Hang on! Has George Clooney just walked in?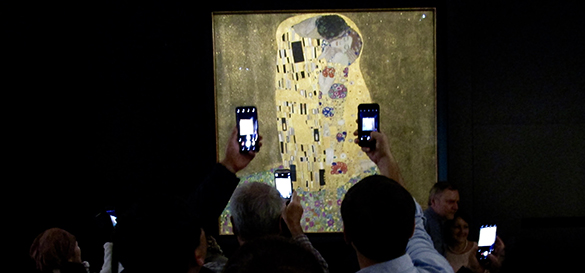 The celebrity in question is of course the canvas itself. My fellow visitors seem obsessed with taking photos. They hardly seem to look at the painting. It's almost as if by having captured the image on their smartphones, they can now move on. I guess they will say they have "seen" Klimt's "Kiss." Unfortunately, a desire to stand in front of it in undisturbed admiration takes second place to the selfie-smartphone fad. What would Gustav himself have said if he witnessed this frenzy? Maybe Sigmund Freud's observations would be more pertinent!
The Belvedere is up to speed though. Right beside "Kiss" is a large, well lit room with a life-sized, high quality facsimile of the painting precisely for the purpose of selfie-taking. Most visitors prefer nevertheless to selfie-pose with the real deal despite the best efforts of the very tolerant but sadly cattle-prodless museum staff.
In the early 1890s Klimt met an Austrian fashion designer, Emilie Flöge; she became a life-long companion and occasional model. He designed dresses for her. "Kiss" is believed to be a depiction of them as lovers. One cannot but be moved in front of this painting. I just want to sit for a while and bathe in its exquisite presence. Just like I'd like to have a coffee with George Clooney. However, celebrity status precludes both. I accept begrudgingly that I have to view "Kiss" from a crowded and jostled distance.
I leave the Belvedere Museum with mixed emotions. However, whilst in Vienna, I am determined  to see more of Klimt's extraordinary work. I take a tram to the very stylish and, happily, less hectic Leopold Museum. By weekend's-end, I am totally Klimt out. But it is worth it!