Geneva, Friday 20 March 2020
---
I'm not sure I do much faith these days except in evidence i.e., science. But the other two of the trilogy, namely hope and love (ref. First Book of Corinthians, 13) are fine by me. This morning, I read what the poet Seamus Heaney has said about hope in the time of Covid-19: "Hope is not optimism, which expects things to turn out well, but something rooted in the conviction that there is good worth working for." Top bloke! And here's a little bit of love to you all…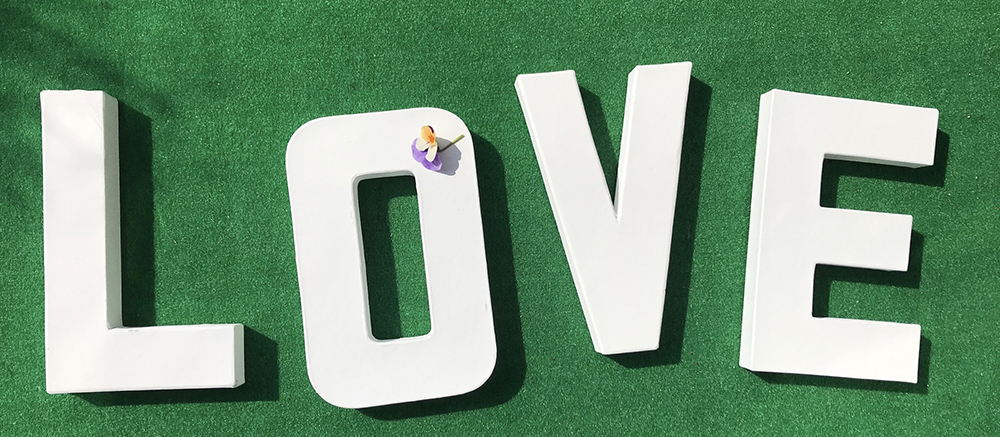 It is 12.30. Just as I take this photo on our balcony (on the putting mat!) the whole neighbourhood once again erupts into applause. I LOVE it! What an extraordinary heart-warming feeling of solidarity it brings (albeit eight and a half hours early today.)
Now about the science…. I was thinking. The number of cases per country is what we all – including politicians and the media – are hung up on. But wouldn't it make sense to bring in what epidemiologists call the denominator? In this case the denominator would be the total population of the countries concerned. So if I divide the number of cases per country (source: Johns Hopkins) by the population of that country (source: WorldFacts citing CIA data,) I come up with a different and maybe more meaningful figure – the proportion of the population affected – for the current top ten countries. This changes the ranking to: Italy 0.07%, Switzerland 0.05%, Spain 0.04%, France 0.02%, Germany 0.02%, South Korea 0.02%, Iran 0.02%, China 0.006%, UK 0.004%, USA 0.004%. As a Brit living in Switzerland this piques my interest somewhat.
Being prepared for a national catastrophe is in the Swiss DNA. They are very good at it. They are conditioned from an early age to pull together in an orderly fashion. If rules are made, then rules are respected. This morning, I went to the Coop. I arrived at 08.30. I was shocked (and I mean shocked and rather frightened) to see a queue of 200 metres winding back from the doors. I presumed this meant that the place was already jammed with frenzied shoppers brawling over remaining packets of bircher-muesli. But then I realised just how organised everything was. We all waited quietly two metres apart. Anyone that went straight to the door not realising us regularly-spaced dudes did in fact constitute a queue were politely asked to go to the back. No fuss. As people came out, those at the head of the queue were let in. The whole entry process was controlled by the most polite of man-mountains. This guy was a Matterhorn with arms and legs. I figured as a baby he'd been breast fed fondu. And he was on the ball. To be sure, the Swiss would never leave such an important job to the pimply work experience lad. I noticed adaptation; the nice lady who normally sells and, if you want, gift-wraps the flowers with a smile was busily cleaning the handles of the trolleys with disinfectant. By observing what people coming out had in their trolleys and bags, I judged that within there was an ample supply of toilet paper. Yay!
When, after 40 minutes, my turn to enter came, the first thing I saw was a hand sanitiser set-up which everyone was using. And after that, laid out before me was a calm, fully stocked supermarket; something I will never take for granted again. I was able to buy everything on my list. Impeccable! Bravo, Coop! Now, not that I want to go on about the bizarre phenomenon of buying toilet paper in bulk at such a time, but I found myself looking at a palette full of the stuff. My co-shoppers could and did help themselves. It occurred to me that maybe all these nice, ordinary and reasonable folk knew something that I did not. And so I bought a modest little pack of twelve rolls. Forgive me!
Today's putting match: All square after eighteen putts each. Madame won on the second play-off hole. Her stats at 2.2 metres – 16/20 (80%); mine – 15/20 /75%).