Geneva, Friday 8 May 2020
---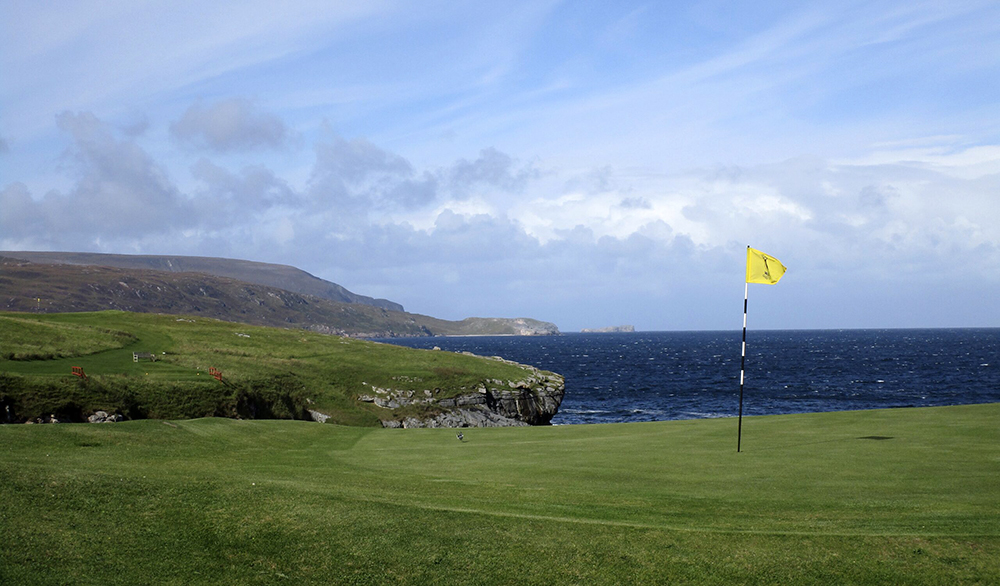 It's looking increasingly unlikely that we'll be able to take our annual holiday in Scotland. Here is the famous 9th / 18th par 3 hole at Durness, one of our favourite courses; it's about as far North as you can go in Scotland. Always worth a visit. A ticket for a week costs £70!!!
Missing a Scottish holiday is a tough one for a golfer even though it's unimportant on today's grand scale of things. You see, I'm now 63. In my twenties, I had time and energy but no money. In my forties, I had energy and money but no time. Now in my sixties, I have time and money but energy diminishes a little year-by-year. And I don't want to waste a minute.
Today, in the UK, there are celebrations to mark the 75th commemoration of Victory in Europe. Clear parallels are being drawn to an imminent victory against the current national threat, the COVID-19  pandemic. The news footage of VE Day is remarkable; hundreds of thousands of people danced in the streets of London for days. My father, who was a medical student in London at the time, wrote a truly amazing account of the events in a letter to his mother.  
I find the breathless clipped accent of the news announcers of the day fascinating. Nobody speaks like that now. Britain is a country where people's accents can denote not only where they come from, but also their social class and level of education. For us Brits, like it or not, our accent is like a badge that we all wear. There is even a police accent! (Go on… do it! "I was proceeding in a southerly direction along Primrose Lane when I recognised the unbecoming gait of a local felon by the name of Knosher Stibbs….) The good ol' BBC cultivated it's own accent in its early days which continued right through to the 1960s. Just listen to Valerie Singleton, and the most memorable moment on the BBC's flagship children's show of the day, Blue Peter.
A survey of Middle Eastern attitudes toward American culture found that only 23% of people in Qatar like the Flintstones while 75% of people in Abu Dhabi do(o)!