Geneva, 10 November, 2020
---
We're back in sort-of-lockdown in Geneva; it is one of the most seriously affected cities in Europe. It is quiet but not the eery quiet of March. There are still jet streams in the crisp November sky. Businesses and construction sites are at work. Restaurants and cafes are closed with some offering takeaways. People are out and about but they don't have the same anxious air about them. I have the impression that this second time around we are calmer; that we have a better idea of what we are dealing with. One thing is sure: no annual trip to spring time New Zealand to hunt out those big brown trout. As we slide from autumn into winter here, I figure I'll have time to write up these chronicles and maybe do a bit more painting.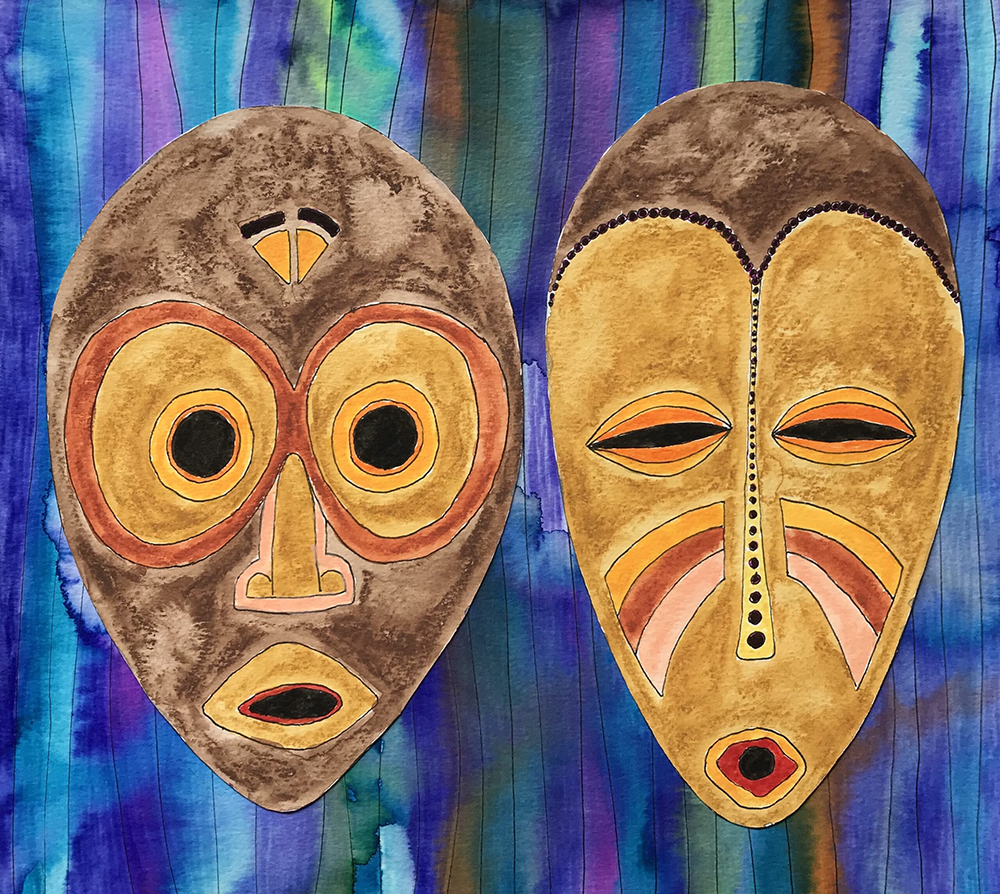 African masks have always fascinated me. Their full meaning may well be beyond my reach but I am always struck by how expressive of emotion they can be. I used a variety of on-line resources for this picture; I worked on it with bad back (see below) during the extraordinary waiting days of the US election. My thoughts must have run from my time working in Africa to the slave trade to the history of black people in the Americas, to the Black Lives Matter movement and finally to what the election result could mean for the whole race thing. I thought the two masks might represent how many people in the world would be feeling before and after Biden's count passed the necessary 270 to get him into the White House.
In relation to the COVID-19 situation in the US, I came across a truly remarkable video-graphic made by Dan Goodspeed. It shows, by state, just how the great political divide in the US determines the speed with which the pandemic has taken hold depending on whether the state in question was Republican or Democrat before the election. Yes, the political leaning of people is a major factor affecting their COVID-19-related behaviour both at personal and community levels. Perhaps this is data telling us what we already knew? On this side of the Atlantic, the UK's Brexit Party is planning to rebrand itself as "Reform UK." According to the party's leader, Nigel Farage, the central drive of Reform UK will be anti-lockdown. He claims we'd be best off if "we learn to live with it, not hide in fear of it." No surprise then that we saw Mr Farage on stage supporting Mr Trump at pre-election campaign rallies.
Apologies! It's difficult to get away from the politics of it all just now. Much closer to home, I've had a bit of a week! My wife and I were due to play golf last weekend at our club just over the border in France. The number of COVID-19 cases increased so rapidly around here that the course was closed and we couldn't cross the border anyway. This put a large black cloud over my normally sunny disposition that was already and rapidly becoming less sunny as the news of the pandemic's resurgence really hit. However, another diversion was on offer as compensation. Saturday television ran the postponed and crowdless final three matches of the Six Nations Rugby and the first ever European PGA Cyprus Classic golf tournament. Normally an active chap, I found that lying slumped on the sofa for several hours came naturally and was indeed quite enjoyable. It kept the lurking curmudgeon in me at bay. Unfortunately, my lumbar spine was held for the duration in ill-advised flexion. And so, at the end of this telly-fest, I got up … well, I didn't get up because I couldn't. My back was painfully locked. I spent three days staggering around grabbing at chairs, doors and my lovely wife for support. My doctor had some difficulty believing that I had done my back in lying on the sofa watching sport. Being a good egg, he nevertheless prescribed some very expensive (even by Swiss standards) medication that seems to be taking effect. Later, when filling in the medical insurance e-claim form, I noticed a new box to tick: "Is the sickness related to COVID-19." Interesting question! I followed my condition's chain of causation back; logic dictated that I tick the box.
This last weekend was the Houston Open Golf. It was won by a charming young Mexican: Carlos Ortiz. Notable also and surprising was the large crowd of spectators; they stood shoulder to shoulder and only about fifty percent were wearing face masks. Well, it is in Texas (Republican.)
The non-golfer may be interested to know that the upcoming week is the big one of the year. Tiger woods (you will have heard of him) will be defending his US Masters' title at the iconic and immaculate Augusta National Golf Club. Augusta is in Georgia. (Newly and only just Democrat!) We'll see what the crowd is like.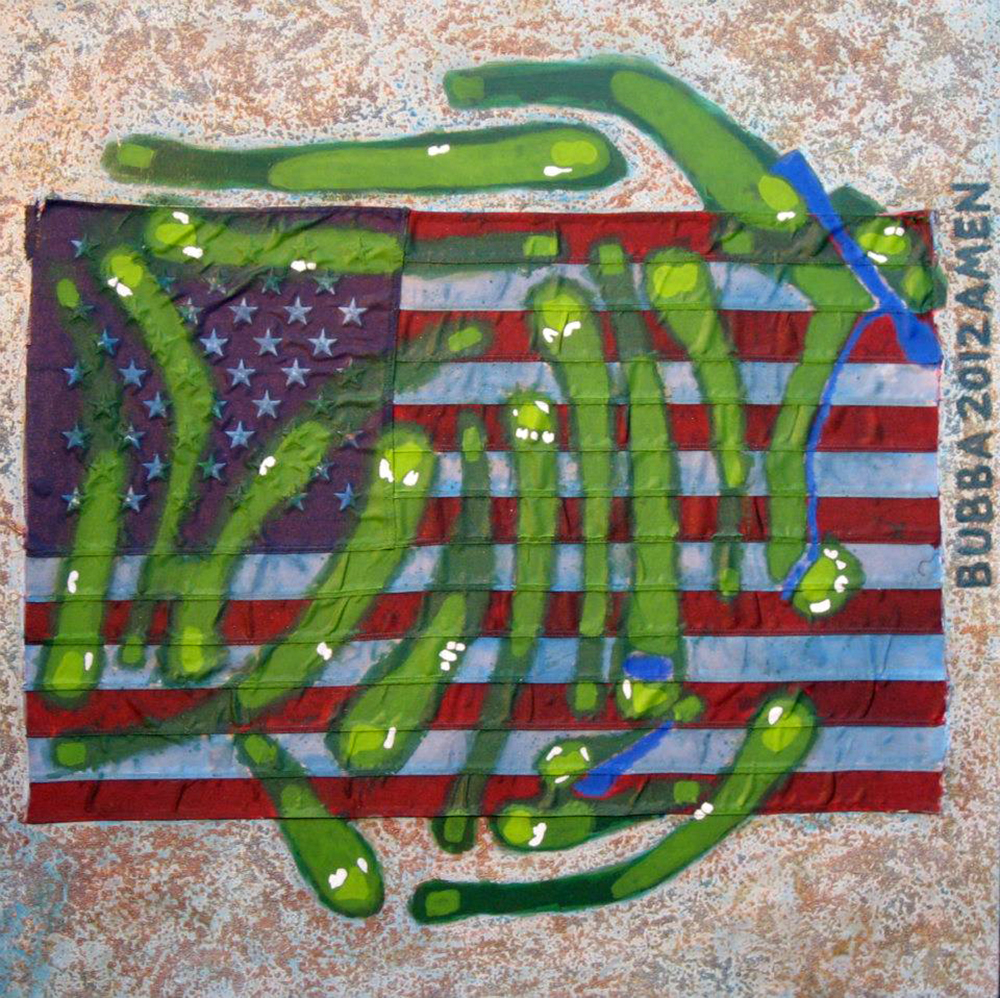 I painted this layout of the Augusta course on a large American flag in 2012. That year, Bubba Watson, a good bible boy, navigated his little white ball safely around "Amen corner" (upper right… lots of water!) He went on to win this title for the first time and, touchingly, burst into tears. I offered this painting as a prize in a local golf competition. The lucky lady who won it was thrilled but had difficulty getting it into her car. I saw her again last year. "Hiya! Still got the Big Bubba painting?" I asked. "Yes, of course!" she replied. "We love it! It's hung on the wall of our bike shed!"
Just as I finish writing….. News comes in that Pfizer and BioNtech have finalised a trial that shows their new COVID-19 vaccine is 90% effective. The stock markets go crazy. Politicians claim credit. Public health experts are "optimistic" but can't help sounding a bell of caution. The BBC's disinformation and social media reporter, Marianna Spring, emphasizes that this is not a way for Microsoft boss Bill Gates to secretly insert microchips into people so they can be tracked. I wonder what Florence Nightingale would have thought of all this?