Geneva, 30 November, 2020
---
There is quite a COVID-19 storm brewing on the other side of the planet. The 53-strong Pakistan cricket squad flew into Christchurch, New Zealand for a series of international matches. Whilst doing time in their isolation facility, six of the visitors have tested positive. They were caught on CCTV breaking distancing protocols by givin' the tea bags heaps outside their own single rooms. They are being threatened with a return flight having not bowled a single ball. There is outrage on both sides. Former Pakistan fast bowler Shoaib Akhtar youtubed "I want to give a message to New Zealand cricket board that this is not a club team, it's Pakistan national cricket team. We don't need you. You are talking about Pakistan – the greatest country on the planet – so behave yourself…. Be careful next time." Well, that's telling 'em! New Zealand has shone bright throughout the COVID-19 pandemic by being one of the few countries to have controlled transmission of the virus. Since mid-May, they have had only a scattering of cases exclusively among isolated international arrivals. So I am totally baffled as to why – just in the name of sport – this number of people are permitted to enter NZ from a country with patchy public health infrastructure that is reporting nearly four thousand cases per day and rising. Yes, indeed! Be careful next time!
The international news is currently dominated by COVID-19 vaccines and pre-christmas relaxation of social distancing measures. The debate about the origin of the virus in Wuhan, China seems to be on a back burner. It (the debate) will come back at some stage.
Italy was the first European country to be hit hard by the pandemic. As lawyers place the best understanding of facts in the context of law, so science places new findings in the context of the best understanding of facts. Enter a study that drew brief attention in April but is now published for review. Giovanni Apalone and colleagues have reported that people in northern Italy were exposed to the virus responsible for COVID-19 as early as September 2019. More than a little surprising! If true, emergence of the virus in Italy predates the presumed beginning of the Wuhan outbreak by at least two months. These findings do not fit easily into "the context of the best understanding of facts." Can this really be correct? Can this be explained by laboratory error or – somehow unlikely – are we looking at fabrication of facts? The scientific community seems to be doing the stunned mullet on this one. As I said in the Lockdown Diary on 12 April, getting to the bottom of the origins of the virus in and its spread outside China will require a neutral stance, a ton of diplomacy, the best of science, the coolest of heads and time. In all things COVID-19 – related, there's a message here for trigger-happy journalists, political opportunists, social media cheap-shots, conspiracy theorists, antivaxers and Dunning-Kruger positives. Good science takes time and the truth will out in good time.
Living in Switzerland can lack excitement. Everyone here just gets on with things in a democratic no-fuss way. For the expat, the Swiss respect for law and order brings advantages beyond living in a clean, safe and exceptionally beautiful country. The weekend before this second lockdown, my wife and I rented a campervan and spent an autumnal rainy weekend near the charming town of Interlaken. When the clouds cleared, the Alps towered above us. The lakeside camp site was immaculate.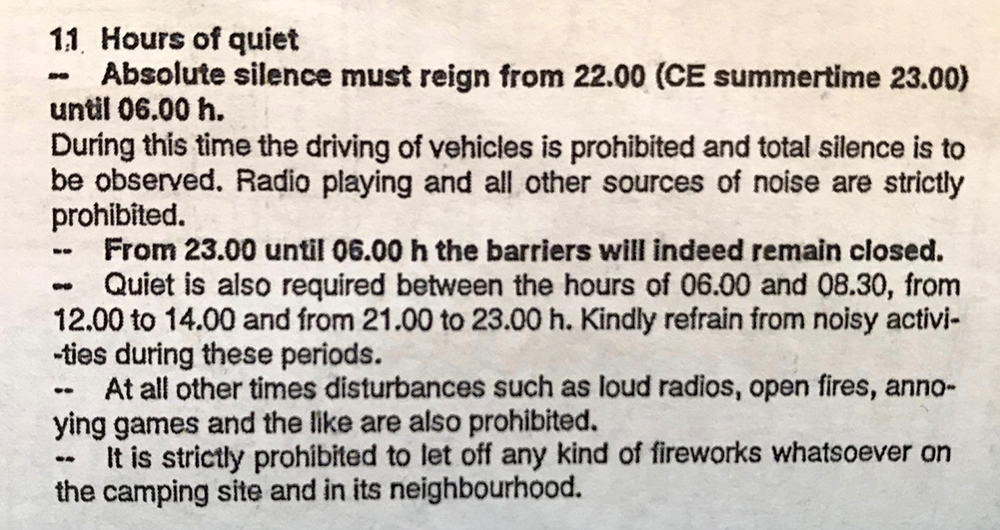 It was also very, very quiet. No wonder given the site's rules that constitute local by-law. I just love it… especially indeed the prohibition whatsoever of any particularly annoying games and the like!
So, despite clocking up some of the worst COVID-19 stats per capita in Europe, the Swiss have dealt with the pandemic in their own way. The first lockdown was accepted. To my knowledge, there was little disagreement; we saw no anti-lockdown demonstrations. With the current resurgence, the national authorities have decided that a second lockdown must be avoided. They have imposed a rule on the number of people who can meet socially, made masks mandatory in any enclosed public space and appealed to the weight of citizens own responsibility. This approach seems to be respected and, looking at the stats, effective. The feeling is that, yes, worrying and inconvenient as it all is, we are in safe hands.
And here are the safe hands. The ultimate decision-making body in Switzerland is the elected seven-member Federal Council. (Note: they are hardly household names.) Each member is responsible for one ministry and decisions are usually arrived at by consensus. The Council's Presidency rotates on a yearly basis. That's right, there is no Head of State in the usual sense. It's not a political system that naturally selects the alpha male personality and to cite the late Ruth Bader Ginsberg, "Wherever decisions are made, there has to be women." I have the utmost respect for this system. It means that the Swiss response to the COVID-19 pandemic has not become mired by party politics or yobbobabbled into wibblewobbleland by one clueless male leader as we've seen elsewhere (well… in the US.)
The sudden spike in cases here in Geneva four weeks ago meant "non-essential" businesses in town have closed temporarily; a measure permitted by the Federal Council. Whilst those affected are obviously unhappy, they accept this has to be done. A local feature in this week's Tribune de Geneve is that a rugby team (I didn't know they had one!) is helping out by doing the shopping for the elderly.
The other day, I heard about a Swiss couple who had concerns about their apparently normal and happy five year-old boy because he had never uttered a word. They took the boy to a paediatrician who, after a battery of sophisticated tests, asked him directly why he had never spoken. "Because," replied the boy "Until now, everything has been perfectly satisfactory!"