I am reunited with a long-lost Hebridean cousin. She suggests that, despite the weather, we visit some nearby standing stones. On the road to Callanish, the suggestion becomes less appealing as the wind speed rises, the temperature drops and the rain becomes horizontal. We pass bus shelters huddle-full of drenched and exhausted cyclists. At the well-organised visitor centre, the cafe is hung about with cagools and anoraks all dripping on the floor; their owners dawdle in the very informative exhibition wondering whether to brave what has to be the worst of Scottish weather. Cousin Rona can't see what the fuss is about. During a brief pause in the downpour, she grabs my arm and force-wades me up the path to a series of crudely – if at all – hewn monoliths. It is bleak all around. We lean into the wind trying to orientate ourselves. Photography is near-impossible. But then no photograph conveys the massive, raw, resilient beauty of this 5,000 year-old collection of standing stones. Something here nudges my soul. I am surprisingly moved. Did our ancestors pass here? What did they do when the weather was like this? Then I think of the making of this place. These pillars of Lewisian gneiss weigh up to 50 tonnes. Did stone-age (wo)man split the stones and, if so, by what method? How were they brought here, positioned and placed upright? How long did it take? What role did the immense task and its outcome play in neolithic life?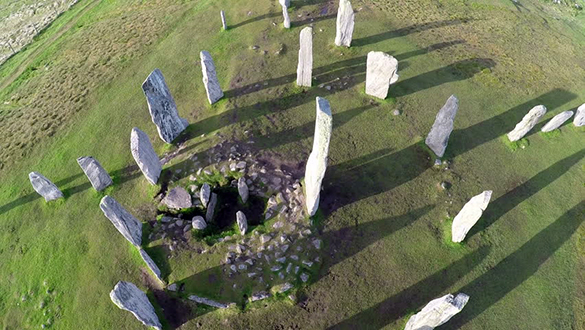 The whole consists of a centre stone within a circle with lines of other stones radiating out to the south, east and west. There is a longer "avenue" or double line of stones to the north. There is also an exposed chamber just east of the central stone; it is thought this might have been built later for ritual or habitation or both.
This particular collection of standing stones is just one of eight in the Callanish area. It is one of the oldest of more than one hundred such sites found across Scotland. What is so intriguing is that these not-so-primitive people must have had a very important reason to expend so much time and energy in the construction of these sites. Information on display at Callanish and on-line makes evident that nobody has a clear idea about what was in these people's minds. It seems likely that there is a religious importance and these were places of ritual. It is claimed that different sites have similar alignments with the paths of the sun and moon. Were these earliest Hebrideans trying to make sense of how the movements of the sun and the moon change throughout the year so cementing in their culture notions of night versus day, dark versus light, cold versus warm and winter versus summer? Or is it as simple as respect for the dead? Life then would not have been as super-sanitised as our's today; we have virtually no contact with dead bodies and recoil when we do. Were these sites some kind of welcoming gateway to an imagined after-life where the dead would begin their onward journey? I can't help feeling that the importance of answering these question goes beyond the academic. One thing is clear: the question of "why" comes down to humans' universal capacity to believe in something abstract and the power of such belief when held in common with others. These magnificent standing stones therefore must represent an essential element of humanity.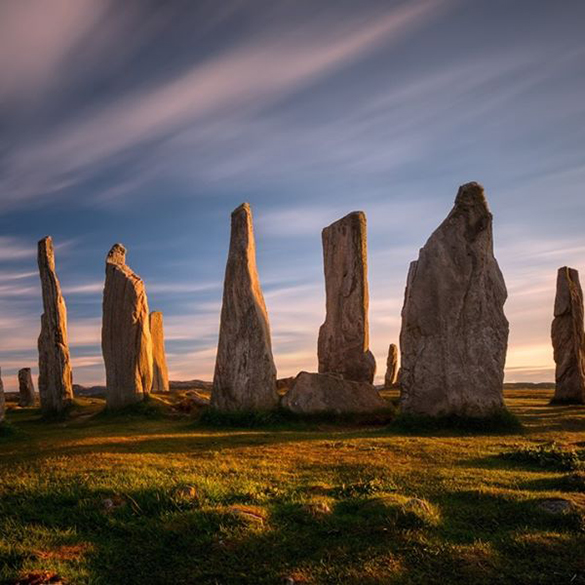 Later, by a warm peat fire with a cup of tea, I find a picture on-line that tells me that blue skies do happen here. My desire to return, however, is not fired by hope of fine weather; something calls me from way back in time.