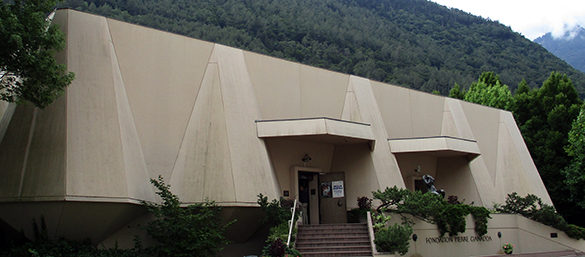 Martigny. Gateway to the Swiss alps. It's a rainy day and so a great day to visit the current exhibition at the imposing Pierre Gianadda Foundation. Posters advertise "Matisse in his time." This must-see ambitious exhibition is a sumptuous banquet of beautiful stuff. Some surprising dishes await you!
Early days! Henry Matisse (1869 – 1954) painted this wintery view from the studio of Gustave Moreau in Paris in 1907.
His friend, Albert Marquet, studied at the same studio.
Throughout his long and lauded career, Matisse led, rejected and experimented with a variety of "isms" including fauvism and cubism. The team at the Gianadda Foundation have picked out different phases of his remarkable curriculum vitae by the clever juxtaposition of his paintings with those of contemporaries.
Along with his friends – and Picasso, his life-long rival whom he first met in 1906 – Matisse worked the theme of the reclining female nude. Most of his output in the 1920s turned around the "Odalisques" of the Middle-East.
The details on the screens and on the red pantaloons resonate. This painting is much more than a sad-sensuous semi-nude. It is a herald of what Matisse was to develop twenty years later.
I overhear another visitor stating that an artist – even Picasso – shouldn't portray women in such an undignified pose! The anatomist in me has some sympathy for this view. However, I am sure good old Pablo was aiming to provoke just such a reaction and, right now, is still laughing at us.
To entrench the exhibition's theme of rivalry between these two creative giants of the twentieth century, two large canvases are placed next to each other.
I "like" both. (Neither bowl me over!) I am left with a feeling that a comparison is invited when a comparison is inadvisable if not impossible.
An annex houses one of the exhibition's delightful surprises. It is a collection of photo-portraits of famous artists by Henri Cartier-Bresson.
I adore this photograph. It speaks volumes. It was taken when Matisse began to develop his final, jubilatory gouache "découpages." The man holds a dove in his left hand whilst drawing with his right. But the hands are thin. There is an air of infirmity despite the ornate surroundings. The photograph was taken not long after Matisse went through major abdominal surgery.
The other delightful surprise is a large series of prints from Matisse's découpages. These works introduced a previously unseen interaction of line and colour. They were born of time and creative genius. They must be among the most important twentieth century influences on not only other painters and designers but also on what is generally perceived as "beautiful." Up until this point such an image of a funeral hearse was unimaginable!
I doff my hat to the Gianadda Foundation for how they recount the wonderful narrative of the work of Henri Matisse (and friends.) It really is worth the trip to Martigny.
Talking Beautiful Stuff thanks the Fondation Pierre Gianadda for permission to take the photographs shown here. Beautiful Stuff!