This year marks the 20th anniversary of Galerie ID in Carouge, Geneve. To celebrate, Isabelle Dunkel is planning a sparkling retrospective from 23 September to 17 October. Beautiful stuff by all the major pop artists she has hosted here will be on display. A friend whom she admires greatly is Roger Pfund, creative giant and the only living artist whose work has been exhibited at Geneva's Museum of Art and History. It's a fitting tribute to Isabelle that he put together her invitation.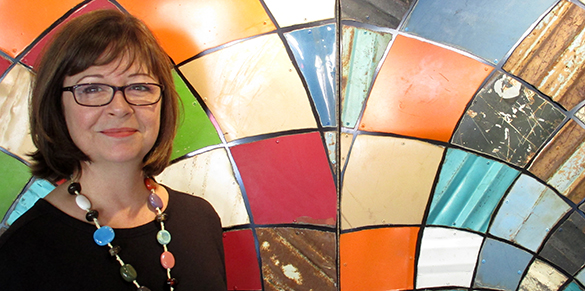 I call in to see Isabelle. I get a warm welcome as usual. But this time, it is her I want to interview. She's not keen to talk about herself. She obviously thinks the story of la galerie is more interesting than the story of ID. (This could be hard work!) So… Born in Paris (I didn't ask the year.) Traveling childhood (11 different schools.) A year in England (loved it.) Trained in languages (four.) Married young (a banker from Geneva.) Grown children (two.) Why pop art? (A hint of enthusiasm for this conversation.) Always loved "art." Went to the USA in 1992. Saw and fell for the work of James Rizzi. Started a small collection. Met the man himself and offered to represent him in Switzerland. The story of Galerie ID starts here.
Girls like flowers! So take some along to the birthday girl whose efforts to bring Rizzi's work to this town were laughed at. "He's too American!" "It's just commercial!" And of course… "It's not ART!" But she had the last laugh. In her first five years of business she sold more than one thousand pieces of Rizzi's wonderful, whacky stuff. On the back of this success her rapidly expanding portfolio grew to include names such as Robert Indiana and Alex Katz. She now runs the only gallery in Geneva dedicated to Pop Art and is an ardent promoter of limited-edition prints as an art form to be valued.
I ask Isabelle what she sees as her greatest achievement. The answer is surprising and immediate with neither preparation nor pretension. She is proud of the accessibility of what she shows. Drawn by pop images, people who would never think of going into a gallery come in off the street. She wants her exhibitions to brighten the day of anyone and everyone. Popular art! Popular appeal! And now she has really warmed to her subject. I dare to ask what makes her heart sing. Do I see a blush? Pop music!! Beatles? Yes! Rolling Stones? Yes! Michael Jackson? Fabulous! Who else? Supertramp! Abba? Yes! Daft punk? Of course! Taylor swift? Not my cup of tea! Mrs Dunkel is just Miss Pop at heart.
Last year I had the privilege of meeting Jeff Schaller at his second exhibition at Galerie ID. He pays tribute to Jasper Johns – one of the doyennes of Pop Art – who famously said "just take something and add to it." Let's acknowledge what Isabelle Dunkel has been doing with passion and success for the last twenty years. She's taken James Rizzi and added accessible Pop Art. Enjoy!