St Pancras station, London. It's many years. I had forgotten just how huge it is. The exterior is now impeccably maintained and inside there are clean brick walls and arcades of shiny, stylish boutiques. I wander around marvelling at the elaborate Victorian architecture and the massive iron vaulting of the train-shed roof. In its day, it was known as the cathedral of British Railways and would have been full of the noise, smoke and steam of the great trains of that era.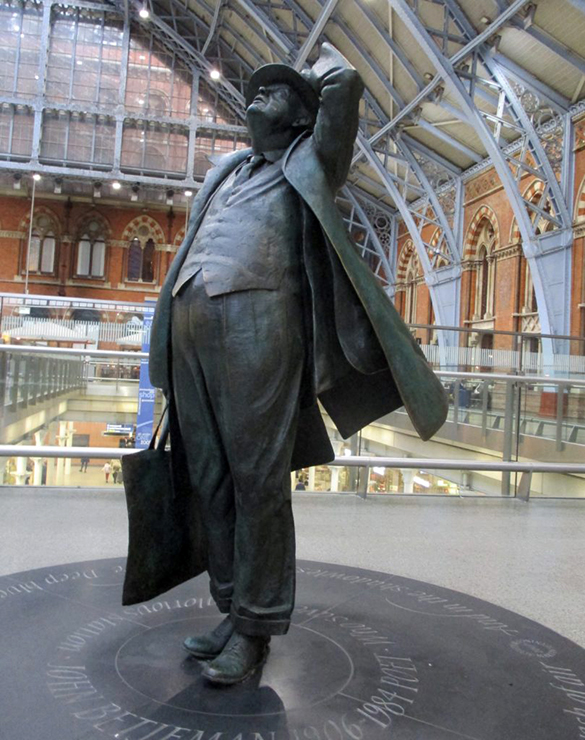 On the upper level of the concourse, I find a wonderful bronze statue of my very favourite poet, the Poet Laureate Sir John Betjemen (1906-1984.) He is depicted as a friendly, academic, rather paunchy figure in a well worn three piece suit with tie askew and coat tails flapping. He has to hang onto his hat to gaze up in awe at Barlow's girdered sky. He foregoes a briefcase for a canvas hold-all in which, I imagine, there are reams of paper with all sorts of lines about seaside golf and Miss Joan Hunter Dunn. He looks like such a nice old guy. I am sure that a conversation with him would have been a life-enriching experience. Here, he stands on a flat disc of Cumbria slate inscribed with lines from Cornish Cliffs: And in the shadowless unclouded glare / Deep blue above us fades to whiteness where / A misty sea-line meets the wash of air.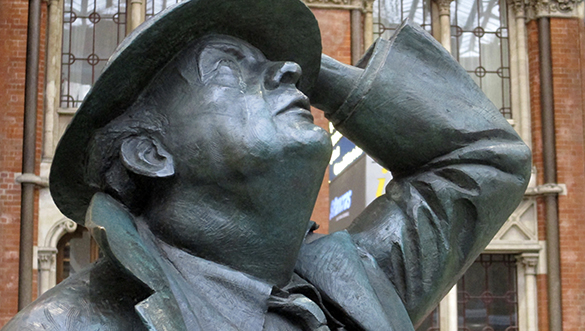 Betjemen was fascinated by the architecture and railways of Victorian times. In the 1960s, a plan to demolish St Pancras station was unveiled. He referred to this as "criminal folly." He is now considered instrumental in the campaign that saved this great London landmark. In 2007, when the station became the international terminus for Eurostar, the sculpture was commissioned as a tribute to him.
This beautiful and touching sculpture is the work of Oxford-based Martin Jennings. His figurative style has led him to undertake similar public works of other great names including Charles Dickens and Philip Larkin. His subjects are not exclusively from the literary world, he has also commemorated in bronze the lives of two people who in different ways have advanced care for people wounded in conflict; namely, the Jamaican-born nurse, Mary Seacole who assisted wounded servicemen in the Crimean War and the World War II plastic surgeon, Archibald McIndoe.
On leaving St Pancras, I notice that a bar in the corner is called…. guess what….. "The John Betjemen"! To be remembered by a fabulous public sculpture and to have a bar bearing one's name is a double honour. Then I guess you merit both if you wrote wonderful poems and saved a station.