It is raining and I am cold when I meet Mireille Zagolin at her studio in Nyon near Geneva. Her warm welcome includes a huge mug of hot tea. We chat. She is at once effervescent and charming.

She tells me how, already a wife and mother, she took up painting more than twenty years ago. Sculpting began ten years ago. However, working with oil on canvas is her primary passion. In this medium she can let her imagination fly. Her spirits range far and wide on a hunt for inspiration. By contrast, she has found working with clay appeals to a much more personal, inner part of her being. I see she has difficulty putting this into words. To change the subject: whose work does she admire most? No surprises: Nicolas de Staël and Camille Claudel.
Amazingly, Mireille has taught herself to paint and to sculpt. It is obvious that she has talent in abundance. I ask about her best creative moment. "My first exhibition!" She says without hesitation. "It was a great success… and a huge adrenalin rush!" She sold everything bar one silk painting which she shows me. It is delicate, feminine and floral. It heralds her beautiful stuff to come.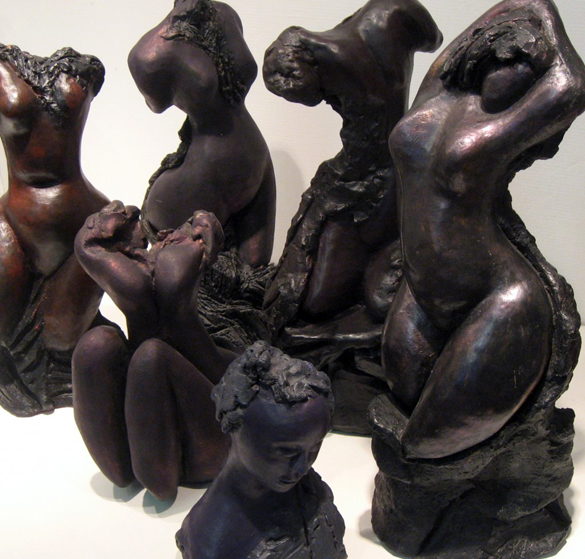 Inevitably, I ask about her worst creative moment. This is the only time during my visit that she is not smiling and laughing. She admits that she has never been asked this. She is silent for a minute. Her face clouds over. Eventually she says "It is when I lose that intimate connection with a clay I am working on; I can't move forward." There is the key word: "intimate." Everything that she creates has a profound air of intimacy together with a distinct femininity. Whatever the medium, her work exudes sensuality and is suffused with love.
To visit Mireille's studio is to be dazzled by striking passages of colour and seduced by beautiful bronze curves. I leave with two of her stunning new canvases in mind as I head out into the rain. But I won't be cold. I have had a wonderful and warming afternoon. Thank you, Mireille.