The village of Scourie is just about as far north as one can go in Scotland. It is set in an area of majestic natural beauty. It is best known for the Scourie Hotel that, for decades, has been a fisherman's mecca. An aerial view gives an idea of just how small the village is.
So what is there of interest to Talking Beautiful Stuff? Inevitability and sadly, it is the war memorial. Fifteen men from Scourie died in World War I and nine in World War II. It is difficult to imagine the grief felt by this tiny community.
As I try to find the best angle to photograph the beautiful, poignant sculpture, a German couple in a campervan stop to consult a map; a Land Rover full of determined tweed roars off for a day on the Dionard River; the BT engineer drives past and waves a cheery hello. This is Scourie nearly one hundred years later. Nevertheless, the memorial has an abiding and tranquil presence in the village.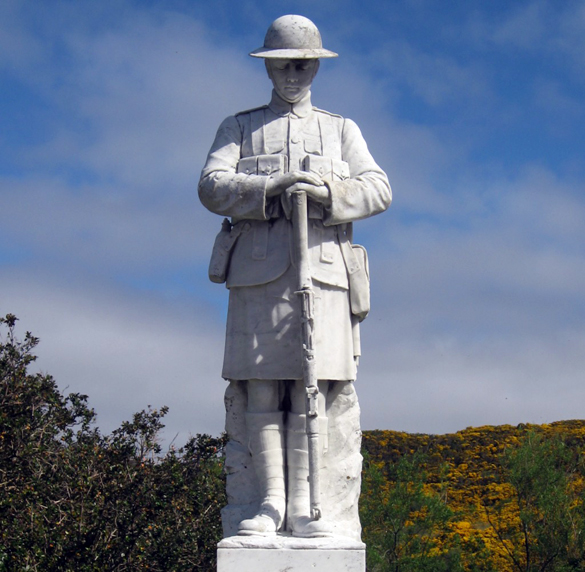 I find myself drawn to this memorial statue more than others for the words that it evokes. Calm. Dignity. Respect. The authenticity of the Lee Enfield rifle pleases me as does the way it is held. I look closely at the marble face; it is almost alive. There are other words. Youth. Innocence. Family. Loss.
I look around for the name of the master sculptor who can capture all this in marble. There is neither inscription nor discrete little plaque. Later, an internet search reveals nothing more. This exquisite and delicate work is anonymous.
Like Garth, our guest blogger, who visited the Memorial to the Confederate Soldier in New Orleans, I feel moved by the humanity and sensitivity of such enduring tributes to the dead of conflicts that have changed the world. If ever you are in Scourie, find this memorial. Let the soldier's face take a minute of your day. Be moved.
The memorial is set back from the road, opposite the Greenhill B&B.