Ross Coupland has two passions; each is driven by equal talent. When persuaded to put his guitar aside, Ross Coupland indulges in his second passion: wildlife photography. He travels the globe capturing beautiful images of the natural world. He tells me he just wants to take photos and make them freely available. This strategy has brought him a BBC award for his primate photography.
The first primate Ross ever encountered: a Costa Rican spider monkey.
The Costa Rican squirrel monkey is small and elusive. I love the way Ross has captured this one: it seems very relaxed with its right leg just hanging down and with its tail draped over an adjacent branch rather like a discarded mink coat.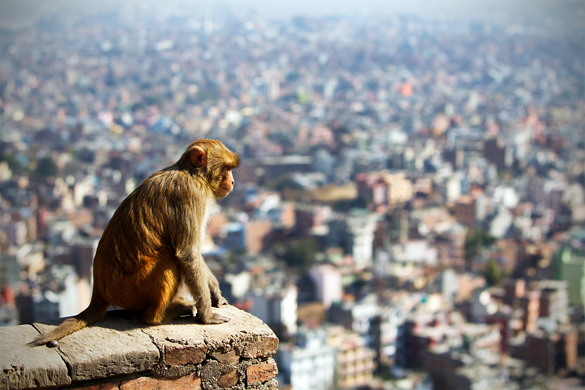 This is my favorite of Ross's primate photos. A male macaque looks out from a brick ledge of the Swayambhunath hill temple complex. What makes the photo is the back-drop of the vast dusty urban jungle of Kathmandhu.