If contemporary art is your thing – or you think it might be your thing – Art Genève 2015 at Geneva's Palexpo offers you a sumptuous feast of beautiful stuff. Go this weekend.
Last year, the visitor was greeted by enormous uprooted trees hanging from the ceiling. This year's entry-point-punch-between-the-eyes is an installation by a 1980s collective of Canadian artists known as General Idea. They piled hundreds of polystyrene rectangles mimicking a compressed ice flow.

In the middle, lie three irritatingly unreal white seal pups; they are obviously fluffy toys. This is "Fin de Siecle" (End of the Century). This is so tacky, it must be making fun of something. I consult the exhibition catalogue. I read that it's a parody of natural history museums and romantic landscape painting. Really? The catalogue also describes the work as "cute, pathetic and cold." I agree! Nevertheless, I would maybe add "intriguing."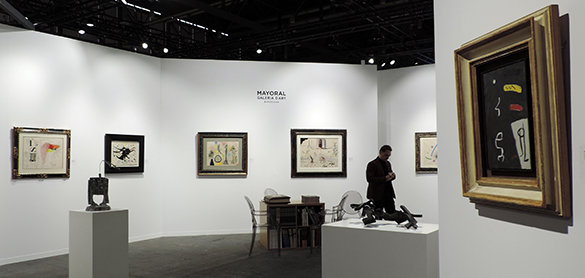 Just opposite "Fin de Siècle" – for those of a more conservative perspective – is the gallery Mayoral from Barcelona. The space is understated, stylish and amazingly offers up small but exquisite works by Miro, Chagall, Picasso, Calder and Dali. Put the prices aside: this space alone makes a visit to Art Geneve worthwhile.
A major event dedicated to contemporary art carries with it – almost by definition – the banal stuff, the puzzling stuff and the frankly disappointing stuff. I have difficulty connecting with huge photos of clouds, bricks on the floor (does this really still excite people?), torn paper and small ragged monotone canvases. Amongst all this though, there are many fabulous surprises. I am stopped in my tracks by David Zink Yi's huge dismembered "Octopus." It is fun, technically brilliant and just a little bit disgusting.
I love this sculpture presented by the Keitelman Gallery of Brussels. A huge circular saw blade has beautiful Arabic letters cut out of it. It is at once delicate and vicious. Somehow, this unusual mixture of forms brings to mind everyday news of violent jihad. Perhaps it shouldn't, but it does!
This juxtaposition in the extensive Syz Collection catches my eye. Conventional and moral versus unconventional and immoral?
In the all-white "The Living Room" curated by Samuel Gross I find this not very forgettable tongue-in-cheek piece.
There is, however, one work that really captivates me. Congratulations to the Geneva-based foundation Art for the World for having the courage to show just one painting. And what a painting! "The Prow" by Italian painter, Marta Dell Angelo, is a huge canvas impressive in dimension and concept. At first pass, the viewer is among a crush of half-clad people who occupy and obscure the prow of a ship. All are exposed to the blazing sun.
I look closer and see people of every race, age and physical condition. Some are sunburnt; some are active; some simply lie or sit. There is a definite genital theme.
In detail, this painting is deeply disturbing. Everyone has flat and unseeing eyes. There is no obvious visual contact between anyone. The lack of human communication appalls somehow. Perplexed, I ask what this is about. The answer: migration with all its indignity and inhumanity. What have these poor, roasting and compressed souls left behind them? What awaits them? Just different versions of poverty, humiliation and exploitation?
With my mind spinning from three hours in Palexpo, I grab my bicycle and head for home unaware that I am in for yet another surprise. The wind on Quai Wilson bites. It is beginning to snow. In the dark, I notice yet more great sculptures on the lakeside lawns. This is a generous public extension of Art Genève 2015. Bravo!