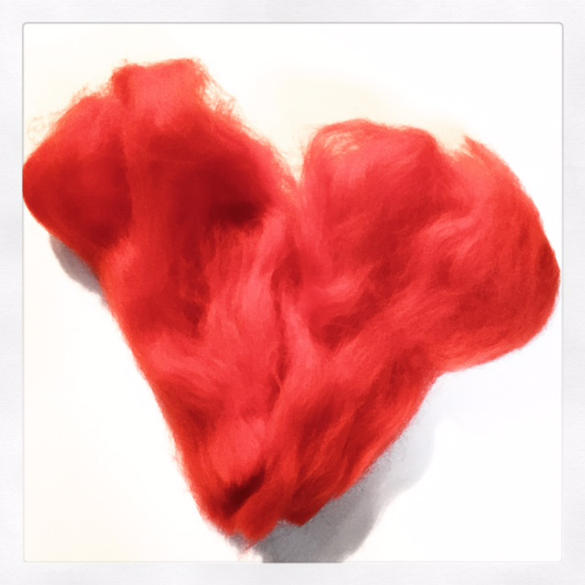 I open my Facebook homepage. I see a bundle of red wool pulled into a heart shape. Amid the thousands of photos that I come across each day via the internet, this stands out. It has a simple and naïve charm. It is posted by Alyaa Kamel, the queen of that corner of cyberspace where "art" and social media blur into one. The text of the post reads: #Iloveme #love #heart #loveisnow #lovingmyself #process #evolution #respect #act #say #talk #think #arttherapy #life #world #humanity #contemporaryart #design #myart #wool #paper #alyaakamel (Interesting!)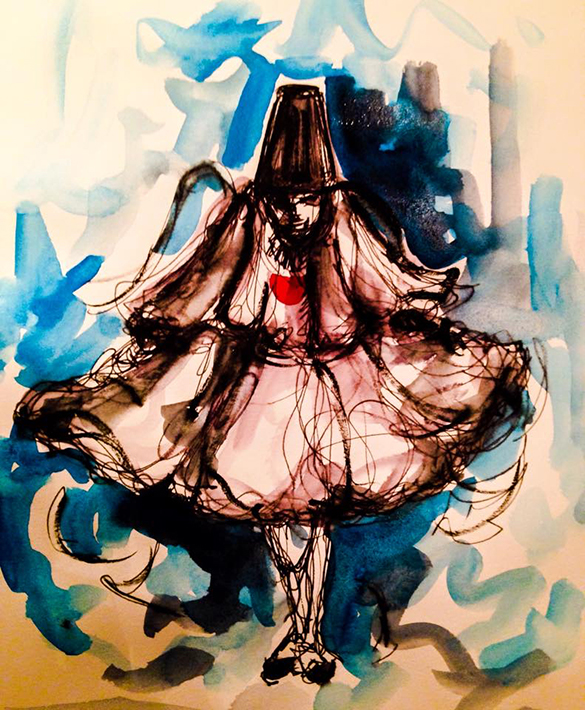 I head into Geneva's old town and visit this striking and versatile painter in her studio. I am immediately captivated by an inky dervish-like figure, beautifully proportioned, poised and slightly stooped as if resting between manic whirls. However, my objective today is neither to admire nor to buy. I am after a behind-the-scenes-and-screens glimpse of Alyaa's virtual gallery. We chat. I ask her about her unrelenting Facebook activity that could stretch to ten posts per day. She's a little elusive. She says it's about promoting and selling her work. I am not totally convinced. It is the "why" of so much activity that fascinates and that I really want to explore. There must be other incentives and impulses at play. I struggle to pitch the right question.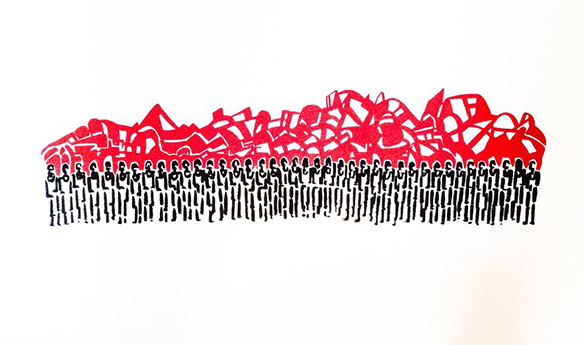 Of all the images that Alyaa posts, her people fascinate the most. Who they are is unclear. They are frequently hooded or veiled. They are oppressed people; people in ruins; displaced people; poor people; crowded people; and people in distress. They are, in brief, a kind of faceless generic for those people about whom every day world news is made. She just feels for people caught up in events over which they have no control and she pours it all out on Facebook.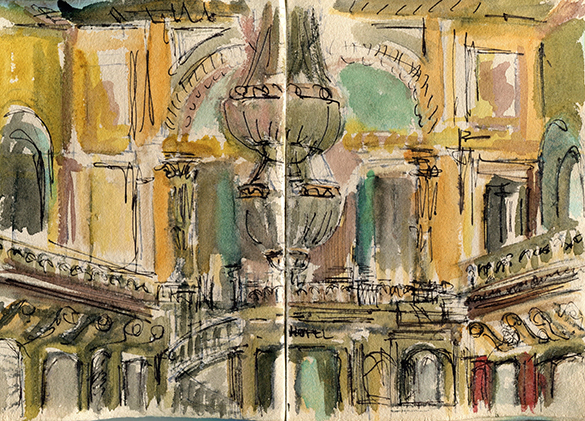 Alyaa travels far and wide often in the company of Martin La Roche. Their clothes, their parties, their dinners and hotel rooms are all posted on their profile pages. Amid all this, she also executes and posts exquisite little sketches. Leafing through her (paper) sketchbook is a pleasure and a privilege. Take a look at this hotel in Stockholm!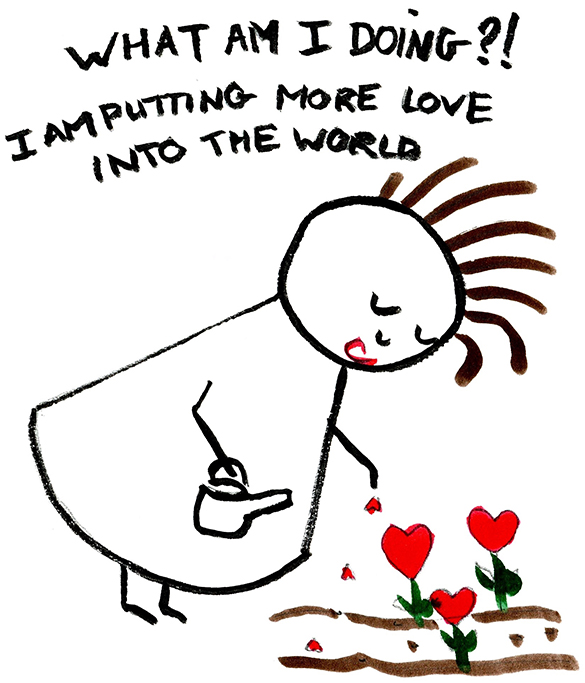 The most intriguing theme that Alyaa Kamel posts by the day – and the most revealing – is Little Alyaa. This pre-adolescent feminine persona expresses any and every little girl thought or emotion that might flit through the mind of an adult in a moment of regression. A cloth version travels in Alyaa's handbag and does cameo photo-calls wherever her creater takes her. Little Alyaa rattles my sense of macho. I feel manipulated and irritated by her. I wish I could say I had absolutely no interest in her o-so-cute-girlie-on-valentine-card-addressed-to-self sentiments. But I can't resist the pull of her charm, the more so with following her on Facebook. I come to realise that Little Alyaa is a very articulate little miss. She is brilliantly characterised and presented. She has, inevitably, a huge, and not entirely female, following. Just as Alyaa Kamel's people speak of world events, Little Alyaa speaks to Big Alyaa's friends and admirers. And just to tighten the saccharine screws, Little Alyaa sometimes shares a Facebook post with a teddy bear. The text is more revealing still….. ‪#‎givemebackmylife‬ ‪#‎life‬ ‪#‎teddyismine‬ ‪#‎teddybear‬ ‪#‎IamwhoIam‬ ‪#‎identity‬ ‪#‎innocence‬ ‪#‎childhood‬ ‪#‎mylife‬ ‪#‎live‬ ‪#‎alive‬ ‪#‎art‬ ‪#‎alyaakamel‬ ‪#‎contemporaryart‬ ‪#‎design‬ ‪#‎decoration‬ ‪#‎illustration‬ ‪#‎drawing‬ ‪#‎fineart‬
I admire Alyaa's eclectic work and enjoy her unrelenting use of Facebook. However, her hashtag word clouds represent much more than a strategy of promotion and sales. They serve to bare her soul and simultaneously act as gaping virtual look-at-me dragnets that communicate with and capture a wide variety of other emotional and creative fish. But the question of "why" remains. A generous answer is that this behaviour signals a talented painter of the twenty-first century using social media unashamedly to promote her work by expressing her fears, hopes, longings and aspirations to as wide an audience as possible. A less generous answer is that she has a compulsion to put herself "out there" on social media. Perhaps the real answer lies somewhere in between. My attempt at analysis of Alyaa Kamel's Facebook activity stops here. I just love it. #hugrobin #robinneedsabeer