Liverpool is a great place to visit. I love its strong sense of civic pride. In a previous era, this vibrant city on the north-west coast of England was a giant hub for shipping and global trade. Now, it's more famous for two football teams and the Beatles. I have an hour or two to spare and head for Crosby sands on the Mersey estuary. I am going to Another Place… for the second time.
Antony Gormley's "Another Place" is one of the UK's most famous and recognisable public sculptures. It even has its own visitor's parking! When I arrive, the tide is out. From the concrete sea-wall I survey the miles of open sand-flats on which stand widely spaced upright human figures. They are still, vigilant and uniformly determined. Some are way out on the water's edge. They all stare defiantly out to the horizon. Another Place comprises one hundred life-size iron figures each of which weighs 650kg and is cast from a mould of Gormley's own naked body. It is impossible to capture it's beauty, scope and genius in one photograph.
The Iron Men – as they are called around here – make sure the ships reach port safely.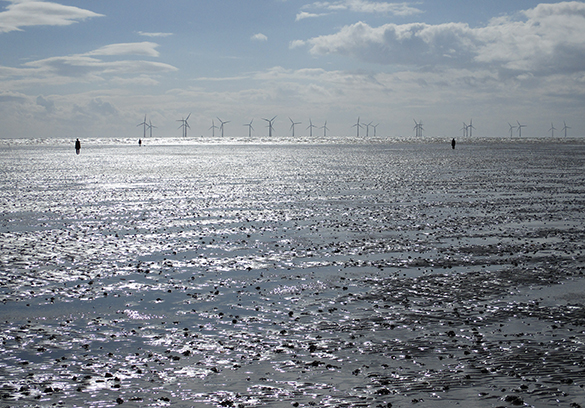 Those furthest out on the flats watch the turbines turn on the Crosby wind farm. As the tide comes in, the waves break over and then submerge these hardy sentinels.
Sir Antony Gormley was born in Yorkshire in 1950. He came from a privileged background being educated at Ampleforth College and Trinity College, Cambridge. He went on to study fine arts at St. Martins and the Slade in London. His sparkling but unconventional career in sculpture and theatre set-design has brought him awards, prizes, fellowships and honours galore. He was knighted by Queen Elizabeth II in 2014 for services to the arts. Quite some guy!
The Iron Men were constructed in 1997. Before coming to Crosby in 2005, they had spent time on beaches in Germany, Belgium and Denmark. In 2007, a controversial decision by the local council ensured that Another Place has a permanent home here.
I first visited Another Place in 2009 when this photo was taken. The January wind chilled to the bone. The tide was not far out. At an individual level, the Iron Men did not really inspire. Some were waist deep in water. Some, with only their heads above the waves, looked like brave winter swimmers. They held no promise of reflection or emotion. I did not stay long. If I am honest, I couldn't see what all the fuss was about. I felt only a flicker of curiosity but, fortunately, enough to ensure my return.
Now, in 2015, I see only staggering originality. When describing Another Place, Gormley says: "In this work, human life is tested against planetary time. This sculpture exposes to light and time the nakedness of a particular and peculiar body; no hero, no ideal, just the industrially reproduced body of a middle-aged man trying to remain standing and trying to breathe, facing a horizon busy with ships moving materials and manufactured things around the planet." I wonder if his notion of time, reinforced through the local council's decision about the Iron Men's permanence, would allow him to predict that these figures not only confront and battle the elements but also become their own little sea-side eco-systems.
The further out to sea the Iron Men are, the more encrusted with barnacles, mussels and sea-weed they become. They are no longer industrial reproductions of their creator; each has developed its own tidal personality.
So much for the "who," the "what," the "when," the "where," and the "how" of the Talking Beautiful Stuff formula; but what about the "… and what does it mean for me?" Curiosity took me back to see Another Place. The conditions were different the second time. I found something that is not only beautiful in its totality but also something hugely admirable both in its concept and in the civic broad-mindedness that makes such an installation possible. Above all, I found the experience of strolling over Crosby sands from one from Iron Man to another totally uplifting.
If you visit Liverpool, do not go to Another Place just because you have an hour or two to spare. Make an hour or two to go to Another Place.