Day 31 (15 April) found us unable to put out a post. Apologies! A brief followup to Day 30: Not only did Donald Trump ignore WHO's advice, he's withdrawing all US funding for the organisation. Deflection on the grandest of scales! However, the Commander in Cheat has back-tracked on who makes the decisions. State's governors do still have authority, it seems. My wife beat me in our daily putting competition on the fifth play-off hole!! That's 14 games to 8.
So… Geneva, Thursday 16 April 2020
---
This morning, through the glorious dawn chorus of birdsong, we heard a plane taking off from Geneva's airport. We rushed out with binoculars to see which airline was flying. Swiss International. We tried to imagine where it was going and how many people were on board.
The number of countries are actively lifting lockdown measures or planning to do so in the very near future is growing. I estimate crunch time is three weeks away. We'll know then whether the different versions of lockdown have served to prevent cases or simply delayed their inevitable occurrence.
Neighbouring France seems to be taking the most cautious approach by extending the lockdown to early May at least. The start of the Tour de France has been postponed to 29 August.
Most surprising is that Médecins Sans Frontières has started a programme for homeless people in Canada. Please tell me this is not a publicity stunt!
Piling up her popularity points, New Zealand's Prime Minister, Jacinda Ardern has imposed on herself and other ministers a pay-cut. The All Blacks rugby team have followed suit.
I recognise graffiti and street art can be controversial. However, I admit to being a huge fan of Banksy. I have a book of the unidentified artist's iconic work. In true Bansky style, the book's cover cites a Metropolitan Police Spokesperson: "Thers's no way you're going to get a quote from us to use on your book cover!" Of course, the man who pointed out that "art" is an anagram of "rat" has made his own tribute to lockdown. I love the rat in the mirror counting the days!!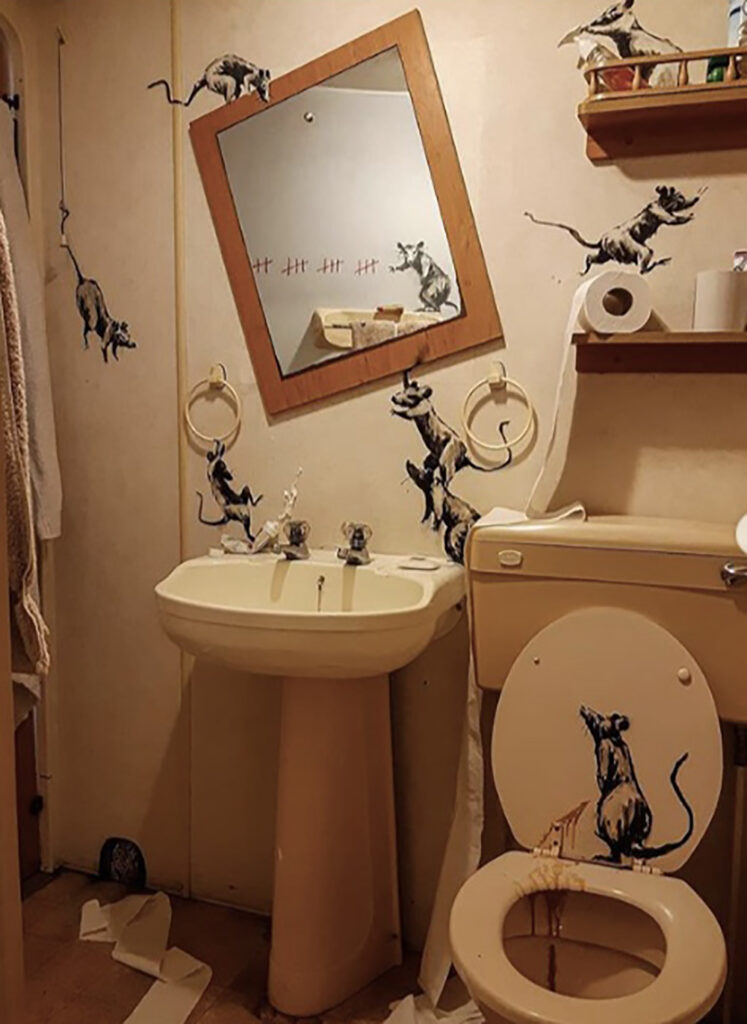 On Day 16 of this Diary, I observed that "the COVID-19 pandemic has rightly elevated health-care workers to a position in public perception of being necessary for national integrity. This position, up to now, has been the near-exclusive domain of the armed forces." The last two weeks appear to validate this observation. Let's stay with this theme of the burgeoning importance of health care.
In the 1950s when my father was practicing general practice in rural Norfolk, most of the population were vaccinated against small pox, diphtheria and tetanus. Because of improved living conditions, diseases such as tuberculosis and rheumatic fever were on the decline. The therapeutic drugs available to him were limited pretty much to digitalis, aspirin and morphine. Antibiotics were just arriving. The cost of administering the vaccines, the medicines and any hospital stay were covered by the young and revolutionary National Health Service. It was all free. In most other countries, still today, the patient pays (and is often ripped off.) The wealthier are healthier despite the 1946 WHO constitution promoting "the highest attainable standard of health as a fundamental right of every human being." Every gain for this right has been hard won; COVID-19 might give it a major bump up the charts. From now on, health care will not just be an assured service for the citizens of wealthier countries; it will be widely acknowledged as a pillar of national integrity going hand-in-hand with national security. This broader view of the importance of health care is generating two welcome developments. First, care homes are coming to be seen as part of the overall health-care system and not just as long-term, entry-only storage facilities for old people. This had to happen at some point because of the increasing proportion of elderly people in every country's population. Second, and at long last, there is mainstream and urgent reporting of the miserable state of health care in poor countries. COVID-19 has forced recognition that poor people's lack of access to health care puts us all at risk and, as we are seeing, can precipitate a national economy's flip into a catastrophic tail-spin.
Please find enclosed a picture of my childhood home. My father's consulting room and dispensary were on the other side of the house.
PS…. I never could paint trees!