Geneva, Monday 4 May 2020
---
The clapping yesterday evening was definitely muted and brief. I'm not sure why we are clapping now. Switzerland has reduced the number of COVID-19 cases to the point that the health services are no longer under strain. There's a general feeling that, very soon, we'll be going about our business as before.
If there was a ranking on how different countries had performed in responding to the pandemic, somewhere mid-range we would find the USA and China pointlessly slugging and slagging it out. Perhaps Italy, France, Spain, Germany and the UK would be a bit higher. Above them maybe Norway, South Korea and Vietnam. Near the top, we'd find Australia whilst currently holding top spot is good ol' lil New Zealand. No new cases! All under control. With this one, Prime Minister Jacinda Ardern has stepped into and held the international limelight.
One year ago, Ms Ardern's government put out a national budget where spending is dictated by what best encourages the "well-being" of citizens, rather than focussing on traditional bottom-line measures like productivity and economic growth. To my non-economist knowledge, a world leader not rating economic growth as a, if not the, priority for their country is unheard of. New Zealand's priorities from 2019 are: improving mental health, reducing child poverty, addressing the inequalities faced by indigenous Maori and Pacific islands people, thriving in a digital age, and transitioning to a low-emission, sustainable economy. Admirable stuff! Sustainable now? Writing at the time in The London Economic, Jack Peat thought that Jacinda's policies were fab but pointed out that as long as other major economies prioritise economic growth over wellbeing, New Zealand "may become a lone wolf trapped in an increasingly hungry bear pit." Tourism is the biggest industry in New Zealand and employs 8.5% of the population. Four million international visitors, of whom 1.5 million are Australian, 500,000 are Chinese and 500,000 American, bring in close to $20 billion per annum. This is all dependant on air travel. What now with the pandemic? The New Zealand economy will surely take a massive hit. Will Jacinda's lone wolf be able to survive? For sure, the circling bears are getting hungrier and more desperate by the day. 
To score at the bottom of the pandemic response league, we have to find a country fulfilling three criteria: first, millions of urban poor living in very close proximity; second, public health infrastructure that is hopelessly underdeveloped – and now inevitably overloaded – to the point that it can carry out no testing for suspected COVID-19 cases; third, a leader who continually downplays the importance of any preventive measures. Yes…. Brazil! As one observer has already pointed out: the magnitude of Brazil's problem risks being unrecognised simply because it is not being recorded.
I had another shot at painting some fruit on a plate. A different approach today.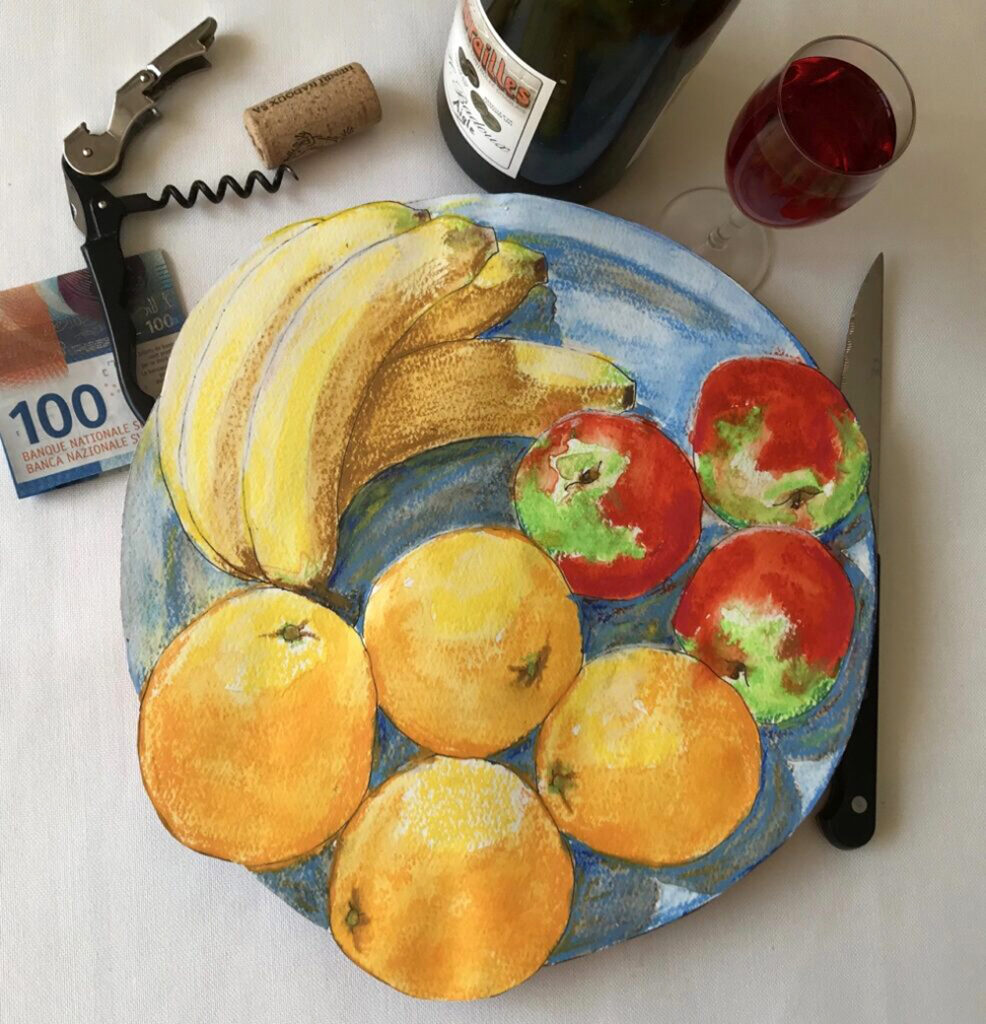 The putting competition…. The first sunny day since last week meant the putting mat was unfurled on the balcony. I won 2 and 1. Running total me – 20, she – 10.