It's that time of year! Art Genève opens tomorrow. The lakeside extension is up and running already. For January, the day is surprisingly warm and calm.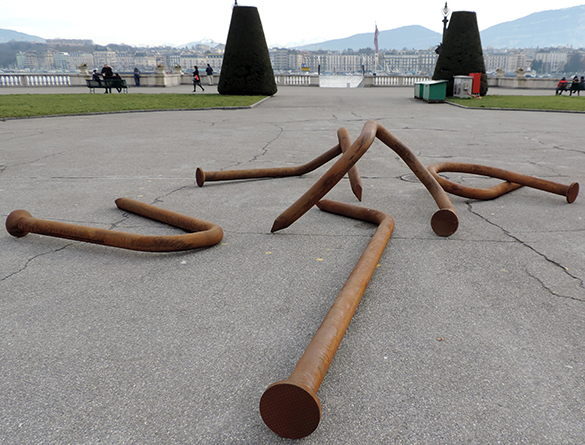 The first work I come across consists of five huge iron nails lying on the walkway. This is "Los Carpinteros: Clavo 4 to 8" by Cuban sculpters, Dagoberto Rodriguez Sanchez and Marco Antonio Castillo Valdes. Fun! But at the same time it generates an uncomfortable feeling. Big hammers and big forces…. all gone wrong. The nails are irreparably bent, pulled out and discarded! Reminds me of hanging pictures!
My next find is Tony Cragg's magnificent bronze "Tommy." It is organic and dominant. The overall form defies parallels. Next to it is Yue Minjun's steel "The Tao Laughter No. 4" which clashes with everyone and everything around it. The laughter is harsh. I couldn't imagine two more dissimilar works next to each other.
What really grabs me is a thoroughly contemporary statement by Yarisal and Kublitz. Their "EMOJI TOTEM (screw you guys I'm going home)" is really thought provoking. Is our phonetic writing about to be displaced by a new symbolic language based on emojis? Wow! I hadn't considered this.
The weather forecast is good for the next few days. Take a stroll along the lakeside. There's lots of beautiful stuff to see!